Graduation application deadline: March 3rd, 2017


Spring ceremony date: Sunday, May 7th

Ceremony time: 3:00 p.m.

ARRIVAL & PARKING: All graduates should arrive at the Bay Center from 9th Avenue and park in the east parking lot.  After parking, proceed up the ramp and enter the building on the third level.  Graduates should take the elevator or stairs down to the first level and follow signs to their respective degree program assembly areas.  Friends and family members cannot accompany you to the first level.  Ushers will be in the area to provide assistance.
ASSEMBLY:The doors to the Bay Center will be open beginning at 1:30 P.M.  Graduates must assemble in their respective areas no later than 2 P.M. College representatives will be available to assist you in the organization of the processional. Please be aware that there will be no rehearsal prior to the Commencement ceremony. Each degree program will have an area to line up (e.g. Associate in Arts degrees, Associate in Science, Baccalaureate, etc.) candidates line up with others in their area, but no other order is specified

Location: Pensacola Bay Center

Address: 201 East Gregory Street, Pensacola, Florida 32502

Graduation caps and gowns will be available in your campus bookstore after spring break. If you have questions, please call the bookstore at (850) 484-1515.

For more information regarding the graduation ceremony, please call (850) 484-1690.

For information specifically regarding the graduation application process, please contact Sheila Shiver at (850) 484- 1622.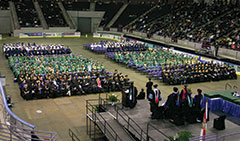 In order to participate in the Commencement Ceremony you must have a graduation application on file with the Registrar's Office.
IMPORTANT: If you do not complete your course of study as planned, you will need to reapply to graduate.
If you withdraw from a course, fail a course, or have other academic issues that delay your graduation, YOU MAY STILL WALK IN THE CEREMONY AS PLANNED.
There is no fee to apply for graduation. You must apply for each degree or certification you are seeking.
Summer and fall graduates participate in the December Commencement. Spring graduates participate in the spring commencement.  If a summer graduate wants to participate in the spring commencement, the graduate must choose that ceremony on their graduation application.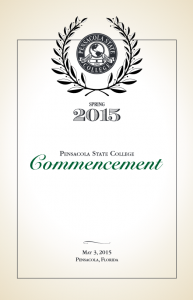 Graduation Application:
The graduation application process begins by applying online through Spyglass. Once you login, select the "Apply to Graduate" option. Students anticipating graduation are encouraged to apply for graduation one term in advance.
Graduation Application Instructions:
Once you have applied for graduation you will receive a graduation eligibility letter in the mail. You may view information regarding the upcoming ceremony at the top of this webpage.  Please continue to check your PirateMail for any and all updates regarding graduation.
Diplomas:
Diplomas are printed after all requirements for a term have been completed and validated. The address you have provided to us in Spyglass is the address used to mail your diploma. Be sure it is accurate! Diplomas are mailed approximately 6-8 weeks after each graduation – spring, summer, and fall.
Fees:
There is no Graduation fee.  However each student will be responsible for the cost of cap, gown and any other cords or stoles.
Holds
Check Spyglass for obligations such as library fines, tickets you received on campus, and other fees.
Photographs:
Graduation photographs will be taken during the ceremony. The photographer will contact graduates with special photo packages that can be purchased.  To preregister please visit www.gradimages.com, and click on Pre-Event Email Registration.  Enter your email and up to 6 emails of loved ones who you would like to share in your accomplishment by viewing and ordering your photos.
Graduating with Academic Honors:
Academic Honors are based on GPA and described in the college catalog. Honor cords are given to students based on the term preceding the graduation term. If you earn academic honors after the Registrar has certified your final GPA, your transcript will reflect that.
Graduation Protocol:
The Commencement ceremony is a most dignified event. Decorum and courtesy are very important for graduates and their guests.
All graduates and members of the general audience should stand and remove hats following the lead of the stage guests.
No air horns, balloons, bubbles, beach balls, or similar items are allowed in the ceremony. The use of noisemakers may be intended to show one person's pride in a graduate, but it can also ruin the chance for another family to hear the name of their graduate announced.
Caps and Gowns:
Caps and gowns are ordered from the bookstore in person at either campus. You must pay for them at the time of order. Please check with the bookstore on an order deadline. If you need special sizing please contact the bookstore, the bookstore does not order special sizes unless requested.
Tassels:
Tassels should be worn on the RIGHT side. After you officially have been conferred your degree at the end of the ceremony, you will be directed to move your tassel from the right to the left.
Announcements and Invitations:
Many students choose to order personalized announcements or invitations to send to their families and friends. We recommend you order these from the bookstore before the graduation application deadline.
Guest Limit
We welcome all of your guests. There is no limit. However, for best seating, families and friends are encouraged to arrive early.
Patching & Pinning Ceremonies:
These ceremonies are separate from Commencement. Contact the program directors for details.
What to Wear:
Graduates must be attired in full academic regalia (cap/gown) to participate in the ceremony.
Suggested attire:
Female graduates — Business attire. No flip flops or beach-type sandals.
Male graduates — Dress shirt and tie with long trousers. No flip flops or beach-type sandals.
Rehearsal:
There is no rehearsal at Pensacola State College for commencement. Therefore, it is very important for students to arrive on time to check in.
Tickets:
There are no tickets and no charges for guests to attend graduation.