Carpentry Vocational Certificate (VC) Information
View Course Requirements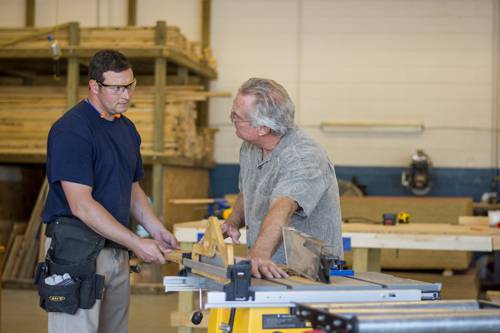 Contact the Pensacola State College Engineering Technology Department for assistance in planning your program of study.
Accredited By: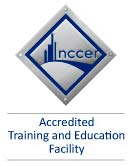 Pensacola State College is an approved NCCER Accredited Training and Education Facility under the sponsorship of The Southern Company. http://www.nccer.org/
Documents & Links
Search For Another Program
Introduction to the Carpentry Vocational Certificate (VC) Program
This three semester program will prepare you for a career in the carpentry trade by focusing on broad, transferable skills that stress both theory and hands on training. Carpenters make up the largest building trades occupation in the industry and those with all-around skills are in high demand. Carpenters are involved in many different kinds of construction activities, from building highways and bridges to installing kitchen cabinets. Carpenters construct, erect, install, and repair structures and fixtures made from wood and other materials. This program teaches essential carpentry skills and offers on-the-job training, which can help you build on your proficiency and future earnings potential and the opportunity to be your own boss. This four-level curriculum covers content leading to certification by the National Center for Construction Education and Research (NCCER). Basic entry-level skills in math, reading, and language must be attained in order to complete this program. Students wishing to enter this program of study should be advised by the instructor or program manager prior to enrollment in these courses.
Is This For You?
People who enjoy working primarily outdoors, building structures, using tools and machines, have the potential ability to read and interpret blueprints, specifications, and diagrams, and can organize activities and meet deadlines, may be suited for this program.
Beyond Graduation . . .
This certificate is designed to prepare individuals for entry-level positions working for residential builders, building renovators, and commercial or specialty contractors. Students wishing to continue their education may take additional courses to earn a two-year Associate of Science (A.S.) degree in Building Construction Technology at Pensacola State College.
Related Career Opportunities
Primary Employers
Graduates from the Carpentry program support the construction industry building homes, highways, bridges, commercial buildings, and more. Well equipped to safely operate hand and power tools, they prepare work sites, and are skilled in foundation form work, wall, floor, and roof framing, as well as exterior trim.
Occupations
Carpenters
Work from blueprints or instructions from supervisors to first do the layout — the measuring, marking , and arranging of materials in accordancewith local building codes. Then construct, erect, install, and repairstructures and fixturesmade fromwood, concrete, and other materials.
Carpenters who work for residential builders and building renovators are often required to be skilled in all phases of home building — site survey and layout, concrete formwork, framingwalls, installing doors,windows and fixtures, building stairs, cabinetry,trim, and many other tasks.
Carpenters who work for commercial contractors or specialty contractors are often required to complete only a few recurring duties, such as framing walls, building forms, or pouring concrete.
Other Occupations
Building Maintenance Personnel
Furniture Maker
Prefabricator
Property Manager
Stage or Theater Set and Prop Builder
Occupation
Carpenters
2015 Cur. Openings
846
2023 Prj. Openings
1013
Est. Annual Openings
31.4
2015 Avg. Median Salary
$29,471.17
Occupation
Carpenters
2015 Cur. Openings
881
2023 Prj. Openings
1077
Est. Annual Openings
35.4
2015 Avg. Median Salary
$29,387.74
All Florida Counties
Occupation
Helpers - Carpenters
2015 Cur. Openings
1599
2023 Prj. Openings
2150
Est. Annual Openings
95.4
2015 Avg. Median Salary
$27,635.74
Occupation
Carpenters
2015 Cur. Openings
59653
2023 Prj. Openings
74802
Est. Annual Openings
2631.5
2015 Avg. Median Salary
$34,789.74
You May Also Be Interested In...