CONGRATULATIONS

 2020 RECIPIENTS!

The annual Student Excellence Awards recognizes and honors some of Pensacola State College's many outstanding students. Over 200 students are recognized this year for their achievements and reflect the theme of a Tradition of Excellence.

 ALL FLORIDA ACADEMIC TEAM
All-Florida Academic Team recipients are recognized by the Florida College System for their academic achievement, leadership, and service to their community.
Sydney Bates (Milton)
Kameron Horak (Pensacola)
Faith Thompson (Milton)
Miriam Villa (Pensacola)
Emily Ward (Warrington)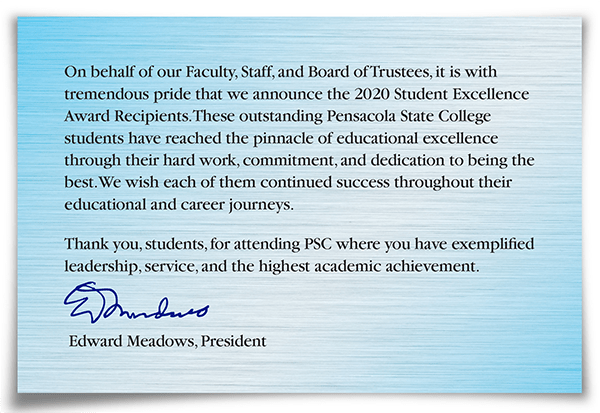 DEPARTMENT SCHOLARS
Department Scholar recipients are nominated and selected by their department instructors in recognition of their scholastic achievement, outstanding commitment to the program, or extraordinary commitment to their peers or the class setting.
Virginia (Ginna) Burton – English and Communications
Kelly Coberly – Visual Arts
Drew Gowan – Mathematics and Computer Science
Brian Hendrix – Performing Arts
Miriam Villa – Natural Sciences

 LEADERSHIP AWARDS
Leadership Awards are based upon participation in campus activities and service clubs. The recipients are chosen by Student Affairs administrators from each campus.
Sydney Bates (Milton)
Abigail Bott (Pensacola)
Amanda Faller (Pensacola)
Kameron Horak (Pensacola)
Amberr-Lynn Reith (Pensacola)
Eliza Wells (Warrington)
Khaliah Williams (Pensacola)
Audra Kayl-Woodruff (Pensacola)

 PRESIDENT'S VOLUNTEER SERVICE AWARD
The President's Volunteer Service Award recognizes U.S. citizens who have achieved over 100 service hours. Hours are measured over a 12-month period and are based on cumulative hours. Recipients receive a letter and certificate from the President of the United States, as well as a commemorative coin.

 PROGRAM SCHOLARS
Program Scholar recipients are nominated and selected by their program instructors in recognition of their scholastic achievement, outstanding commitment to the program, or extraordinary commitment to their peers or the class setting.
Chyle Bayasca – Business Administration
Abigail Bieck – Emergency Medical Technician
Wendi Butler – Sports, Fitness and Recreation Management
Joseph Carney – Heating, Ventilation and Air Conditioning
Jared Clay – Criminal Justice Technology
Sarah K. Coley – Early Childhood Education
Jessica Delange – Elementary Education
William B. Harp – Culinary Arts
Aryn Hightower – Pre-Engineering
Shelby Thurmond Hillman – Veterinary Technology
Zachary Kelley – History
John Lanning – Electronics Engineering Technology
Curran Long – Physical Therapist Assistant
Lee Lorren – Paramedic
Cheryl Miller – Practical Nursing
Madison Neal – Culinary Management
Sylvia Parriman nee Reschman – Surgical Technology
Jordan Seales – Psychology
John Singleton – Accounting Technology
Brianna Stranzl – Dental Hygiene
Dana Wimmers – Paralegal Studies

 SCHOLASTIC ACHIEVEMENT
Scholastic Achievement Award recipients must maintain a 3.9 GPA or better while completing at least 80% of the requirements for the degree they are seeking.
Emily Adams
Melissa Albuquerque
Brooklyn Armand
Chelsie Arrants
Katherine Ballard
Ariana Barrett
Cassidy Barrow
Lauren Barrow
Erica Bartuccio
Renee Bates
Steve Blackwell
Gabriel Blum
Eric Bobrowski
Jacey Bowen
Carly Brink
Christopher Brock
W Bunn
Matthew Bunting
Andrew Burkett
Meleah Bush
Jessica Butler
Daryl Calhoun
Isabella Cameron
Kevin Carff
Rebecca Carroll
Donald Carter, Jr.
Brooke Catchot
Ibrahim Chami
Samantha Churchill
Coltin Clark
Katriel Coleman
Adam Collins
Merete Conley
Grace Cox
Asia Cravens
Melissa Creel
Austin Cunningham
Tracy Curry
Keynan Del Pino
Nichole Delong
Cameron Donofrio
Helen Doss
Mary Easterday
Sarah Edwards
Katherine Ehmann
Justin Eldridge
Nicholas Elliott
Alicia Faller
Yzelda Joie Farase
Seth Fletcher
Joseph Flint
Tevita Fohe
Bo Gehrke
Sylvie Gerszt
Alexis Gillman
Wren Godwin
Dean Golden
Brittany Green
Yolanda Hall
Courtney Hallbauer
Chelsea Hardy
Kolby Harp
Justin Harrision
Aymen Hasnain
Carrie Helm
Tessa Hendricks
Lindsi Hicks
Alyssa Holder
Kameron Horak
Wendy Huff
Stephanie Hutto
Avarie Jackson
Mischel Johnson
Tamara Johnson
Angelica Jones
Bryan Kelly
Timothy Kelly
Benjamin Kent
Andrew Kincaid
Giang Le
Katelyn Leavins
Debrah Lepinay
Brennan Lewis
Marisa Lother
Katja Lunsford
Katherine Lupton
Jason Mallery
Bailey Marshall
Katelyn McCaffrey
Kathleen McCrea
Gemma McGee
Gaige McMillian
Stacy Mills
Cynthia Mulvey
Joshua Mundy
Katelyn Needles
Janee Negron
Katie Nelson
Jessica Nguyen
Thuy Nguyen
Katarina Nikolic
Oliver Parlier
Toni Patton
Leacy Paul
Brandon Phillips
Morgan Phillips
Maria Popelka
Brookelyn Powell
Amy Pursell
Karissa Rauch
Sarah Reid
Brandy Reese
Kinsey Register
Michael Robertson
Sadie Rusteika
Graciela Ryland-Berrios
William Schraer
Ashley Seeker
Benny Segovia
Elizabeth Shaw
Micah Showalter
Sarah Sieminski
Mitchell Singleton
Annalisa Smith
Caden Smith
Kay Snyder
Audrey Stemen
Mackenzie Sutt
Samantha Taylor
Danielle Tinker
Dmitrii Trokhin
Camila Vannieuwenhoven
Melanie Vaughan
Karen Vidal
Miriam Villa
Mycayla Vinal
Kayla Watson
Teresa Weakley
Andrea Weekley
Julie Wetmore
Caleb White
Ciara Wiggins
Felicia Wiggins
Darrel Williams
Jacie Williamson
Rachel Wood
Olyvia Woods
Jessica Wright
Kiara Wyatt
Shanan Zavocki

 SERVICE AWARDS
Service Award recipients are selected by campus personnel based on the outstanding services rendered in their respective departments, schools, and campuses as well as the community and their fellow students.
Emily Belcher (Pensacola)
Abigail Chambers (Pensacola)
Rachel Cooper (Warrington)
Emma Fischer (Warrington)
Haley Harris (Warrington)
Nicholas Jarrett (Pensacola)
Nathaniel Jones (Pensacola)
Matthew Juntenen (Pensacola)
Amelia Maltbia (Pensacola)
Avery Maupin (Pensacola)
Alexis Miller (Pensacola)
Tucker O'Connor (Pensacola)
Dustin Reddin (Pensacola)
Josephine Stehling (Pensacola)
Audrey Stemen (Pensacola)
Timothy Stephens (Milton)
Faith Thompson (Milton)
Clara Viveros (Milton)

 SHARLENE E. BURKHARDT AWARD
The Sharlene E. Burkhardt Award was established in honor of a prior PSC student who gave a great deal of herself in helping others. The fund was established after her death in 1968 by her parents as a way of honoring a student who exemplifies the same spirit.