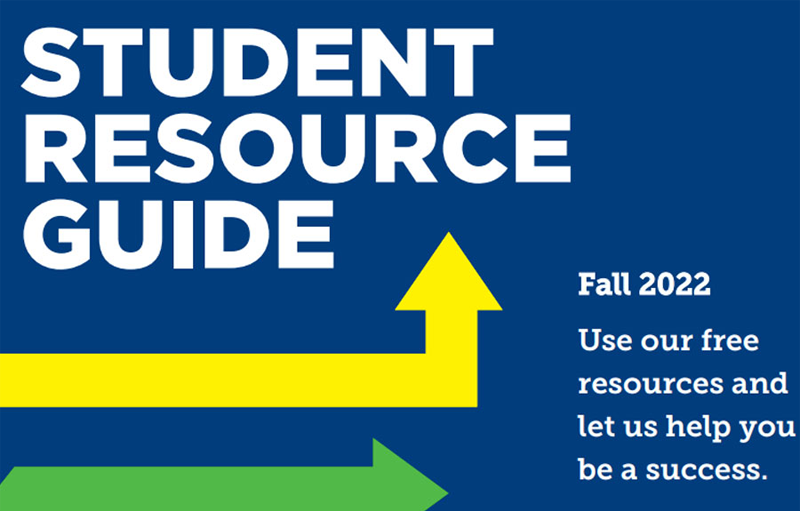 We hope the first week of the fall 2022 semester went well. But we also know that sometimes things happen. Dogs eat homework all the time. There's not much we at Pensacola State College can do about that.
Still, there are problems and concerns that students might face that PSC can help overcome. There are numerous resources available for students, including food assistance, on-campus mental health services, virtual tutoring and much more.  There are also specific resources for veterans, workforce students and first-generation college students.
For the complete PSC Student Resource Guide, go to www.pensacolastate.edu/documents/student-resource-guide/ or click on the Student Resources tab on the www.pensacolastate.edu home page.
"When you become a PSC student, we're going to support you in every avenue we can,'' said Jon Stephenson, PSC Assistant Vice President of Student Affairs. "That could be help on the academic side such as tutorial support, library services and academic advising or help outside the classroom such as looking for a job or helping with mental health and food insecurity issues. We want our students to be successful not just in the classroom, but in life."
The PSC Student Resource Guide has information and links to:
Advising and Choosing a Career
Community Resources
Employment – including JobX, a free job board for students and alumni
Events at the Anna Lamar Switzer Center for Visual Arts, the PSC Culinary Management Lunch and Dinner Services, the PSC pool and planetarium and more
Getting Involved – student clubs/organizations information
Help with Classes
Managing a Disability
Paying for College – scholarship and financial aid information
Staying Healthy and Safe – Pirate Food Pantry, Pirates Care, Public Safety, Fitness Centers and more
Student Technology
Veterans Services and Support
TRIO programs
Visit the PSC Student Resource Guide for everything. Listed are a few quick links:
Student Clubs and Organizations
PSC Recreational Sports and Intramurals
Career and Technical Education Student Resources
Health Sciences Learning Center
TRIO Educational Opportunity Center
TRIO Veterans Student Support Services
TRIO Educational Talent Search
Veterans Student Success Center