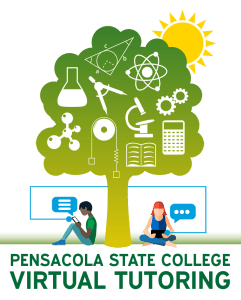 All students of Pensacola State College enrolled in math, writing emphasis, beginning physics, or beginning chemistry courses have access to a virtual tutoring lab. Onsite math and writing labs are located on the Pensacola, Milton, and Warrington campuses, and the South Santa Rosa and Century Centers. If a student is unable to visit a physical lab, opportunities still exist to receive feedback or virtual help with the Virtual Tutoring Labs.  Please refer to the schedules for virtual tutor availability.
As participants of the eLearning Virtual Tutoring Lab, students have access to live tutors in a fully interactive, virtual online environment. The virtual tutors have access to all the books being used in PSC classes, enabling students to ask specific questions. If homework is not from a textbook, the student may speak, email, or chat their question to the virtual tutor. After receiving the student's questions, the tutor will work through the homework problem with the student, prompting the student to answer questions and interact throughout the process.
Virtual Tutoring Labs support students with multiple learning styles and enable students to work one-on-one with virtual tutors live. Most virtual hours are at night (writing and math are also on Sundays), allowing for students with jobs or other obligations an opportunity to get much-needed help with homework. Math virtual tutors coordinate with instructors to make sure the tutors are teaching the correct method for an instructor's specifications. The Writing Lab also allows students to submit an essay for review or to leave a specific question for a tutor who will respond within 48 hours during the work week through their eLearning OWL platform.
Note: There are NO Accounting Virtual Tutoring Hours for this Fall.