Troy Moon, Pensacola State College
Pensacola State College truck driving student Johnson Demps was rolling down the highway in his liquid tanker big rig when the sunshine disappeared in an instant and heavy fog rolled in. A moment later there was rain. Then snow.
A deer crossed the highway and Demps hit the brakes, slowing down to let the creature pass.
"I don't want to hit Bambi," Demps said. "Let's get across Bambi."
A moment later, a pedestrian emerged from the woods and sprinted across the fog-blanketed road.
"I don't know where he came from," Demps said.
Of course, he actually does know. It was his truck driving instructor, Robert Paterson, controlling the weather and any obstacles that Demps would have to navigate through.
Demps was driving on one of PSC's two state-of-the-art Virage Truck simulators, which feature a three-screen immersive visual system, surround sound and even a motion system that allows drivers to feel all the bumps of the roads and the weight of the rig and the movement of the liquid being hauled.
Demps is one of 12 students – there are two cohorts of six students — currently enrolled in PSC's Commercial Vehicle Driving program, which is a 320-clock-hour certificate course where students train to earn their Class A Commercial Driver's License, allowing them to operate vehicles with a weight of more than 26,000 pounds and that carry loads of 10,000 pounds or more.
The program is designed to help fill a needed workforce gap.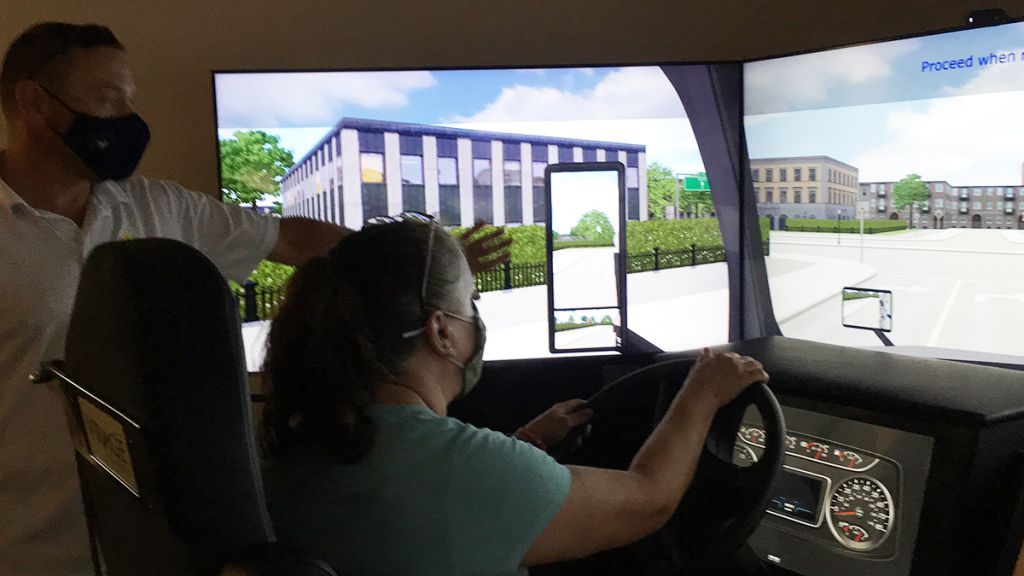 The American Trucking Associations (ATA) reported there is a nationwide shortage of commercial truck drivers. In 2018, the trucking industry was short roughly 60,800 drivers, and the ATA predicted that if current trends hold, the shortage could swell to more than 160,000 by 2028. The 2019 median pay for heavy and tractor-trailer truck drivers was $22.29 an hour.
"There's a shortage of drivers nationally and locally," said Robert Paterson, PSC Commercial Driving instructor.
"There are good-paying jobs for truck drivers all over. They're needed everywhere. As the cliché goes, 'If you bought it, a truck brought it.' Truck drivers are vital to the supply chain."
PSC's Commercial Driving program currently is located at the Warrington campus and the Blue Angel Recreation Park. Classroom work and the simulators are at the Warrington campus while real-road driving takes place at the park west of the campus.
But in August, PSC will break ground on a new $7.8 million commercial driving training and testing facility on a 15-acre parcel in the Santa Rosa Industrial Park East, north of Interstate 10.
Paterson said the new facility will allow PSC to grow the program, adding more instructors and admitting more students each semester. PSC also hopes to acquire more trucks to train students in. Currently, PSC has a 75-foot long traditional 18-wheeler and a smaller truck that is about 15 feet in length.
"The new locations will be centrally located," Paterson said. "Right now, we have to use the Warrington campus and the Blue Angel Recreation Park, which is about 10 to 12 miles away. And we have to get our fuel at the Pensacola campus. At the new facility, it will be all in one place."
Drivers in the current program are excited about their prospects.
"Opportunity, opportunity, opportunity," said Kemini Poindexter, who currently works for a car detailing business but hopes to someday have his own truck and go into business for himself. "I love trucking. I'll try to work for a company and then drive for myself after I get a couple years of experience."
PSC initiated its commercial driving program in September 2019. Since its inception, the program has had 40 students complete the course and earn a Commercial Driver's License.
Students who complete the 320-hour certification course will have to drive at least 1,000 miles in training. When they finish, they can then apply for a Florida Class A Commercial Driver certification. Graduates would be eligible for positions including long-haul trucking, local delivery, and school bus operations.
"This is a high-demand field with good pay," said Michael Listau, PSC Workforce Director. "There just aren't enough licensed people to drive the trucks. That's everywhere."
PSC student Jean Sloan is currently enrolled in the program. She said truck driving is in "her blood."
"Both my grandparents were truck drivers," said Sloan, who worked for the United States Postal Service for 25 years. "They drove from Indiana to California. I'm just really excited about the opportunity."
A few minutes later, Sloan was in the seat of one of PSC's truck driving simulators, trying to drive through an urban area that had been programmed.
"You can feel the movement in the tanker," she said of the virtual liquid load she was carrying. "It moves you back and forth."
Paterson can program different variables into the simulation system, including weather conditions, obstacles and even the kind of shipment being hauled.
"That liquid load moves inside," Paterson said. "This simulates that so (students) can actually feel it pushing on the sides. We want to make it as real for them as we can."