Troy Moon, Pensacola State College
Pensacola State College's truck driving program has received a financial boost from Triumph Gulf Coast, Inc.
The College recently was awarded a $3.8 million Triumph Gulf Coast grant to help build a 13,000-square-foot commercial driver's license training and testing facility on a 15-acre parcel off of Jeff Ates Road in Santa Rosa County.
Total cost for the facility, including construction and equipment, is $7.8 million. Groundbreaking for the facility, in the Santa Rosa Industrial Park East, north of Interstate 10, will take place sometime in August.
The total 10-year cost of the project ─ including salaries, supplies, student fee waivers and facility operations is $11.3 million.
Currently, the PSC truck driving program uses the Warrington campus for classroom and driving simulation training and Blue Angel Recreation Park west of the Warrington campus, for real-world commercial truck driving training and instruction.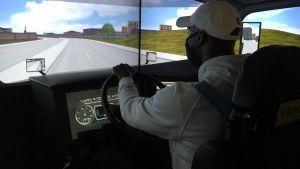 Triumph Gulf Coast is a nonprofit corporation organized to oversee funds recovered by the Florida Attorney General's office for economic damage that resulted from the 2010 Deepwater Horizon oil spill in the Gulf of Mexico.
Once the facility is completed, 1,000 students are expected to earn their Commercial Drivers License over a 10-year period, helping to fill a nationwide shortage of commercial truck drivers that is projected to increase over the same time period.
The facility is expected to be completed sometime in 2022.
"It's definitely a big deal," said Debbie Douma, PSC Dean of Grants and Federal Programs. "There's a huge need for truck drivers locally and across the nation."
The American Trucking Associations (ATA) reported there is a nationwide shortage of commercial truck drivers. In 2018, the trucking industry was short roughly 60,800 drivers, and the ATA predicted that if current trends hold, the shortage could swell to more than 160,000 by 2028. The 2019 median pay for heavy and tractor-trailer truck drivers was $22.29 an hour.
Michael Listau, PSC Workforce Director, said the facility's testing center will be available to truck drivers from across the region.
"Probably the most important aspect of the new facility is that it will increase our capacity," Listau added. "It will allow us to train more people. It will be a state-of-the-art facility where we can offer testing as well."
In September 2020, PSC was awarded a $1.6 million grant for the truck driving facility by the U.S. Department of Commerce.
PSC initiated its truck driving program in September 2019. Since its start, PSC's truck driving program has had 40 students finish and earn a Commercial Driving License.
"This grant will allow us to increase the number of teachers, increase our fleet and obtain more simulators. It will also be centralized as opposed to now when we're having to use the Warrington campus and the Blue Angel Recreation area," Listau said.