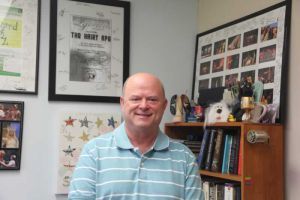 Published: 10-18-2016
Rodney Whatley has always loved the theater and had a passion for history.
This year, Whatley, the director of Pensacola State College's music and theater departments, will bridge that gap when he oversees the production and staging of the two-act play, "How I Got That Story."
The Amlin Gray play chronicles the experiences of a young journalist during the Vietnam War and is part of the college's 2016-17 large project venture – the Vietnam War Memory Project.
A large project is a term Pensacola State professors use to identify projects that reach across disciplines and into the community. The projects seek authentic learning experiences, and where possible, opportunities for service learning. Ideally, the projects are about a year-long and any professor can suggest a project and all parts of the college are welcome to participate.
The Vietnam War Memory Project is the most recent of three such endeavors by the college. The other undertakings were 2008's World War II Memory Project and 2010's Korean Conflict Memory Project. Whatley oversaw the staging of "South Pacific" as part of the World War II Memory Project and "Mash" for the Korean Conflict Memory Project.
"We're moving chronologically," said Whatley of this year's project. "The Vietnam War is more than 50 years old and veterans of that conflict are aging. We need to get them to share their stories and experiences during the war with young people who know very little about it."
Set to hit the stage May 18 through 21, casting for the production will begin next spring. Open auditions are scheduled for April 3 through 4 in Ashmore Auditorium. Members of the community – especially veterans – are urged to audition or participate in the production.
"It was an idea for our students to develop relationships with veterans so they can learn more about their plight, their contributions and how their sacrifices have shaped America's lifestyle," Whatley explained. "It always surprises me that Pensacola is a military town but many of our young people know so little about the Vietnam War. This is just a way for them to learn by doing one-on-one interviews with the actual men and women who served this country during that time."
Whatley said through the student-veteran interview process each side can develop empathy for each other and break down some of the barriers.
Interest in the Vietnam War Memory Project has really spread campus-wide. In fact, this year's Walter F. Spara Writing Competition's Personal Essay category includes the special theme of war and conflict. Deadline for submission to the competition is Oct. 26. For more information on the competition, email Michael Will at mwill@pensacolastate.edu.
The college's art department will design logos and posters for the Vietnam Memory Project while writing and speech students have a two-semester opportunity to hear real-life accounts from veterans who actually served during the conflict.
Dual-enrollment student Nicole Parks wrote in a speech that an interview with an uncle who served in Vietnam was very enlightening.
"From doing this project, I got to speak to my Uncle Charley and learn about what he went through at my age about 50 years ago," she said in the speech. "It gave me insight on what was happening to thousands of others who were my age and how they fought for our country."
Parks said she was unaware of how important it is to learn family history.
"Before I did not know that my uncle was in the war and it has taught me to talk to my many cousins and family members more to learn about their lives. I now speak to my uncle on a regular basis to stay connected and show that I care for him."
For more information, contact Sheila Nichols at 850-484-1428 or snichols@pensacolastate.edu.