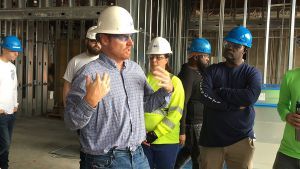 Published: 11-15-2019
By Troy Moon, Pensacola State College
Pensacola State College building construction program students toured the new STEM facility under construction on the Pensacola campus to get a better understanding of what it takes to build a multi-million project.
Wearing hardhats all, the dozen-plus students moved within the framework of the Phase I east wing building as a small platoon of workers moved about the construction site to complete a variety of tasks. Those tasks presented a perfect opportunity for the students, said Tony Grahame, PSC carpentry instructor and Building Trades Program coordinator.
He hopes students "get a better understanding of what it takes to design and construct buildings," Grahame said. "We're fortunate they're willing to give us a tour of the building. In this stage, it's appropriate because they get to see all trades. It's basically opened up, so you see the electrical, plumbing, masonry, steel, insulation, dry wall. Everything is going on at the same time. Windows are being installed. It's perfect timing."
The new facility replaces the 60-year-old Mary Ellison Baars building, which was demolished before construction began on the new facility in January.
Diane Bracken, PSC's director of Facilities, Planning and Construction, said Phase I construction should be completed in May 2020. The first classes will move into the new facility when the Fall 2020 term begins in August. Cost for the Phase I project is budgeted at $13 million. Ajax Building Corp. is the general contractor for the project, which was designed by Florida Architects.
Bracken said no date has been set for the start of Phase II – a west wing building and third-floor connector that would link both wings.
The total cost for the entire facility is $34 million.
The under-construction east wing will be home to various programs, including mathematics, cybersecurity, aviation maintenance, computer science and other high-tech fields of study.
"We're standing in the math lab right now," Bracken said during the tour. "The whole thing is going to be great once it's finished."
Brock Edwards, project superintendent for Ajax Building Corp.'s PSC STEM building project, said it was well worth his time to lead the students on a tour.
"They all know they're going into the construction program," Edwards said. "So hopefully, I can give them a little bit of experience and teachings so that when they come out into the field, we have better workers."
Student Dan Sarfert studied various aspects of the construction during the tour, and, like many of the students, took photos of various elements of construction throughout the day.
"I graduated this past winter," Sarfert said. "But I'm a returning student." (He's assisting with the construction of an affordable "mini-home" being built in partnership with the Escambia County Housing Finance Authority. Look for a story on the project in December.)
"This (the tour) is helping me get a little insight into the commercial side," he said. "It's just fascinating to me."
If you're interested in construction and building careers, contact Pensacola State College's Engineering Technology Department at 850-484-2586, or go to https://www.pensacolastate.edu/departments/engineering-tech-programs/.