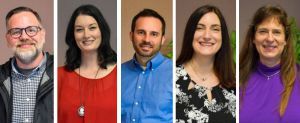 Published: 05-07-2020
Best New Instructor, Professor Emeritus distinctions also announced
Congratulations to the winners
Troy Moon, Pensacola State College
Pensacola State College mathematics instructor Deborah Woods knows she's a bit different than most of her students. In fact, she may be different than most people reading this.
Her words:
"I first took algebra in ninth grade and it was wonderful,'' Woods said. "It made great sense to me."
Yeah, that's a bit different than the reaction most of us had when first confronted with algebra. But Woods knows that not all her students were born with what she calls "the math gene,'' and works to break down Algebraic expressions to easily graspable lessons.
And it works. Woods is one of four Pensacola State instructors selected as 2020 Academy of Teaching Excellence inductees. The selection process begins with student nominations, which makes the designation even more special, Woods said.
"It just reinforces the fact that I'm doing what I'm supposed to be doing for our students,'' said Woods, who is in her fifth year as a PSC instructor. "Because that's the reason we're here – the students."
The other 2020 Academy of Teaching Excellence inductees are: Andrew Barbero, History, Languages, Social Sciences, and Education, Amber Carey, History, Languages, Social Sciences, and Education and Domenick Grasso, Natural Sciences.
The Academy of Teaching Excellence has also named Lauren Rogers, Natural Sciences instructor, as Outstanding New Faculty Member. Other additions include legendary former instructors Wayne Wooten and Ed Stout, Natural Sciences instructors, who were selected by the Board of Trustees for the recognition of Professor Emeritus.
The Teaching Excellence awards are designed to recognize outstanding classroom instructors who demonstrate sustained teaching excellence as measured by four criteria:
Demonstrated knowledge of and enthusiasm for subject matter
Good rapport/relationship with students
Effective course content and organization
Effective instructional methods.
Erin Spicer, PSC Vice President of Academic and Student Affairs, lauded the award winner's commitment to their students.
"One key component of the Academy of Teaching Excellence awards is that the nominations are submitted primarily by students,'' Spicer said. "Each nomination submitted reflects a deep gratitude for the support students receive from the faculty both inside and outside of the classroom."
The PSC Academy of Teaching Excellence began in 1986, when Wooten was one of six instructors selected for the inaugural class. Nearly 200 former and current instructors have been inducted into the Academy of Teaching Excellence.
"It's a very nice honor,'' said Woods, who previously taught high school math in Baldwin County, Alabama. She earned her bachelor's and master's degrees in Mathematics from the University of South Alabama.
"I guess I was born with the math gene,'' she said. "But I know there are a lot of people who struggle with it. It makes no sense to them. So, I try to break it down into little pieces and go logically with it. You just have to work with the students closely and find a way to make them understand."
Here's a quick look at the other three instructors who are now members of the PSC Academy of Teaching Excellence:
Andrew Barbero
"It's nice to be recognized by the students,'' said Barbero, who is in his fourth year of teaching at the College. "When you know you've had an impact on a student, that's what blows me away. It's gratifying to get students to think critically and better understand the world around them; the origins of how we got here."
Barbero earned his bachelor's and master's degrees in History from the University of Southern Illinois, where he is currently working toward his doctorate degree. He has served as PSC's Lyceum Series Director since January 2018, with a goal of expanding the audience by bringing in more diverse artists, such as alternative country performers Lydia Loveless, Patterson Hood and Mike Cooley, as well as New Orleans genre-splitting performer Maggie Koerner, who performed in Ashmore Auditorium on March 12. The show was one of the last events on the PSC campus before the COVID-19 shutdown.
Even with the COVID-19 virus in the news in the first weeks of March, nearly 200 people attended the show.
"We rocked the Ashmore,'' Barbero said. "It was a great show."
Barbero is an avid scholarly writer, and his papers and essays have been published in numerous professional publications and books. His essay, "Traversing Partisanship and Teaching Peace and Justice in the U.S. History Survey,'' was recently published in the Journal of American History.
A Missouri native, Barbero's interest in history came early on.
He collected arrowheads that could sometimes by found in the region and was introduced to arts and humanities through the many museums he visited with his family.
"We were working class,'' he said. "But in St. Louis, the museums and zoos were free. Even the symphony had free seats. Even though we didn't have a lot of money, I was able to go these museums and I was hooked."
Barbero said he feels Pensacola State is "a perfect fit" for him.
"I call it the island of untapped opportunities,'' he said. "If you're willing to put the work in, you can really accomplish something special at PSC. I was a working-class kid, so I like that PSC has working class students, nontraditional learners and adult students who come back to finish their education. It's nice that (the Teaching Excellence Award) is tied to the students. It shows I've had an impact on them."
Amber Carey
For Pensacola State Spanish instructor Amber Carey, learning a foreign language is like uncovering a secret world.
She first took Spanish in high school in Haleyville, Alabama, and would go on to earn her bachelor's and master's degree in Spanish from Auburn University.
"To me, it was amazing,'' said Carey. "It was like deciphering a secret document. It opened so many cultural doors.''
Carey has been at the College since 2007, beginning as an adjunct. She was promoted to a full-time associate professor of Spanish in 2011. Carey was named Outstanding New Faculty Member in 2013. She is also the Robinson Honors Program coordinator.
She said she feels gratified that her efforts are appreciated by her students.
"To me, that is the greatest honor,'' she said of the Teaching Excellence Award's student nomination process. "I see a big part of my role as a teacher is to help those students who might be scared about their first college experience, or who have never taken a foreign language or are just terrified of foreign languages. It's kind of an unknown, so my role is to help them build their confidence so that they're comfortable making mistakes. Because, especially when you're learning a new language, you have to make mistakes to move forward and grow. So, I foster a safe environment and try to build rapport among students so they're comfortable making those mistakes, which is necessary."
Other than Spanish, Carey also speaks Italian, and can "get by" in German and French.
"Every language is like its own secret code,'' she explained. "And when you learn the language, you know the code."
Domenick Grasso
Grasso sees teaching chemistry the same way Woods views teaching Algebra. It's not in most people's wheelhouse.
"Chemistry is intimidating,'' Grasso said. "Even the word 'chemistry' is intimidating to some people. My philosophy is that we're here to serve the students, so my objective is to humanize the subject as much as possible so my students can relate to it. I try to make it clear that I care about them first and create a positive environment where everyone has mutual respect."
Grasso is a Pensacola native born at the Pensacola Naval Hospital. After graduating from the Pensacola High School International Baccalaureate program, he earned a bachelor's degree in chemistry from the University of Florida and eventually a doctorate degree in biological chemistry from the University of North Carolina at Chapel Hill.
"I was always good at chemistry in high school,'' Grasso recalled. "I decided to stay on the right track, and I wanted to eventually become an astronaut."
But the Space Shuttle Columbia disaster in 2003 put NASA's program into a slow-down mode, and Grasso gave up the astronaut focus.
He started at PSC in 2011 as an adjunct, and a year later was granted associate professor of chemistry status.
Like Barbero, Grasso relishes the chance to teach nontraditional students.
"A lot of the students at PSC are adult students,'' he said. "They might not be as savvy as some of the kids right out of high school. Or they might think they're not up to it. Are you kidding me? They have so much life experience, and they're the ones who want to learn the most. That's what I enjoy, helping students who really have this desire. It might not be for chemistry, but they have a desire to learn and earn their degree. I want to help them get to where they want to go."
PHOTO: Academy of Teaching Excellence inductees, left to right: Andrew Barbero; Amber Carey; Domenick Grasso, Lauren Rogers (Outstanding New Faculty Member); Deborah Woods.