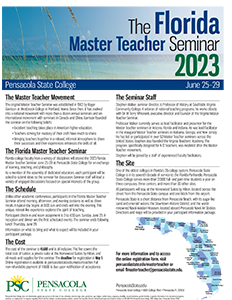 The Master Teacher Movement
The original Master Teacher Seminar was established in 1962 by Roger Garrison at Westbrook College in Portland, Maine. Since then, it has evolved into a national movement with more than a dozen annual seminars and an international movement with seminars in Canada and China. Garrison founded the seminar on the following beliefs:
Excellent teaching takes place in American higher education.
Teachers striving for mastery of their craft have much to share.
Bringing teachers together in a relaxed, informal atmosphere to share their successes and their experiences enhances the skills of all.
The Florida Master Teacher Seminar
Florida college faculty from a variety of disciplines will attend the 2023 Florida Master Teacher Seminar June 25–29 at Pensacola State College for an exchange of learning, teaching and philosophy.
As a member of the assembly of dedicated educators, each participant will be asked to submit ideas to the seminar for discussion. Seminar staff will lead a variety of engaged discussions focused on special interests of the group.