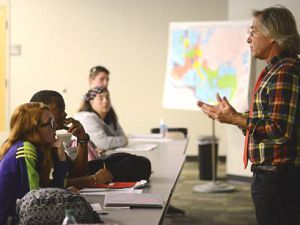 Welcome to the Humanities and Social Sciences Department
Welcome to the Humanities and Social Sciences Department
The Department of Humanities and Social Sciences offers a wide variety of courses and programs designed to introduce students to those things that make humans unique: the humanities, history, languages, the mind, and the quest for wisdom. The courses offered in the Department of Humanities and Social Sciences afford students opportunities to learn how their everyday behaviors impact and are impacted by the world around them. Opportunities abound to study the emergence and progression of human civilization from ancient through modern times. Students are exposed to a broad range of concepts about human capacities for learning, growing, and changing.
Our history courses will give the student a choice of study that ranges from European and American studies to a more specific African-American historical and cultural analysis. Students will have the ability to study the Spanish language, its various dialects, associated cultures, and classical Latin. From Socrates to Sartre, our philosophy courses will leave the student with greater critical thinking skills and a greater appreciation for the major thought processes of the world.
Additionally, degree areas within the department include Psychology and the Social Sciences (including Anthropology, Social Work, and Sociology) and Education (Elementary and Early Childhood). Want to explore the human mind, group behavior, and cultural diversity? Have a passion for education and teaching? If the investigation of human cultures and societies, past or present, and learning the fundamentals of education and teaching appeals to you, then the Department of Humanities and Social Sciences is the place for you!
Related Academic Programs
Department Faculty & Staff
Cornejo-Arroyo, Topiltzin
Gonzalez Quezada, Daniela