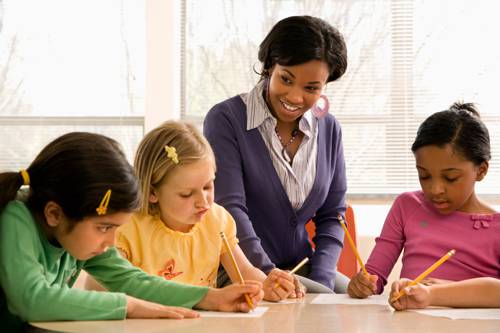 Contact the Pensacola State College Education Department for assistance in planning your program of study.
View Course Requirements
SEARCH PROGRAMS
INTRODUCTION
Early Childhood Education is concerned with the education, guidance and daily care of young children. Early Childhood professionals plan and implement activities that stimulate children's intellectual, social, emotional and physical development. Completion of the program prepares students to teach in or to operate a child care center, preschool program, or a home child care center. Students will gain insight into working with children from birth through age 8. Course components focus on all aspects of early childhood including curriculum development, behavior management techniques, and forming partnerships with parents and the community.
Program completion creates the option for students to transfer to a higher degree program. The Early Childhood Education program meets the State of Florida education requirements related to owning, directing, operating, or working in a child care program.
Two courses (EDF1005 and EDF2085) require service learning in a public school setting. Background checks may be required. Although a school district may provide an appeals process to persons receiving a disapproval to enter K-12 classrooms as a result of the background check, students should be aware of the Florida statutes 435.04. Pursuant to Chapter 1012, Fla. Stat., any individual who has been found guilty of, regardless of adjudication, or entered a plea of nolo contender or guilty to, any offense enumerated in §435.04, Fla. Stat., shall be ineligible for appointment to any instructional, non- instructional or voluntary position in any daycare, school or other educational facility providing care or instruction to children 17 years of age or younger. To view 435.04, Florida Statutes, go to www.flsenate.gov/statutes.
The Associate in Science degree in Early Childhood Education includes College Credit Certificates in:

Child Care Center Management
Early Childhood Development
Early Childhood Inclusion
Early Childhood Teacher (Preschool)
Infant / Toddler Specialization

Students in this program are encouraged to apply to graduate with the certificate as the requirements are satisfied
Florida Child Care Professional Credential
IS THIS FOR YOU
Professionals in this career must possess good communication and social skills and also have a genuine interest in adult/child relationships. Friendly, understanding, sympathetic, and empathetic describe the attributes of an Early Childhood professional.
BEYOND GRADUATION
By gaining experience in a child development center or a public or private school, students may advance to supervisory or administrative positions. The Associate of Science (A.S.) degree in Early Childhood Education at Pensacola State College is equivalent to or greater than the FCCPC— Florida Child Care Professional Credential — required by the State of Florida. With additional coursework, students may obtain their Associate in Arts (A.A.) degree, a bachelor's degree, and earn state teacher certification to be eligible to work in a public school.
RELATED CAREER OPPORTUNITIES
Primary Employers
Employers of graduates from the Early Childhood Education (Associate of Science Degree) program include public and private schools, child development centers, family-home daycares, religious organizations, and self-employment.
Occupations
Child Development Educators
Concerned with the education, guidance, and daily care of young children. Early childhood professionals plan and implement activities that stimulate children's intellectual, social, emotional and physical development.
Preschool Teachers
Work in public or private schools, or child development centers, where they plan and implement activities for young children which promote: intellectual, social, emotional, and physical growth and development needed to be successful as they enter primary school. Preschool teachers also teach in infant or toddler programs.
Child Development Center Curriculum Coordinators
May be involved in long range planning of child development programs.
Family Day Care Providers
Care for a few children in their own homes. These workers are generally self-employed and are responsible for all aspects of running a small business. Child development and education graduates also are employed at centers serving children with special needs or children who are school age, or as child development nannies. Graduates may also own or operate a child care or preschool center.
Teacher Aides
Assist classroom teachers in elementary schools. Aides often apply training in child development and typing skills to perform a combination of instructional and clerical duties. [See also Teacher Aides, Early Childhood Education (Technical Certificate Programs), page 66.]
Other Occupations
Early Childhood Teacher/Assistant
Early Intervention Teacher/Assistant
You May Also Be Interested In...