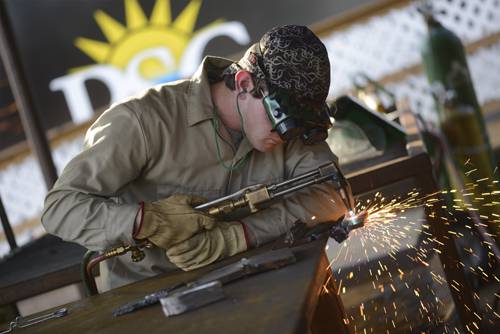 Contact the Pensacola State College Engineering Technology Department for assistance in planning your program of study.
View Course Requirements
RELATED DOCUMENTS
RELATED LINKS
SITE LINKS
SEARCH PROGRAMS
INTRODUCTION
This post-secondary adult vocational program prepares students for entry level work in the welding field in both the manufacturing and construction sectors. The program uses a combination of theoretical, simulation and hands on instruction. Strong emphasis is placed on safety as well as specific welding techniques and skills in an effort for students to obtain industry certifications. Students successfully progressing through the program are prepared to take National Center for Construction Education and Research (NCCER) welding certification exams as well as test to become certified through the American Welding Society. The full program is designed to be completed in 1050 clock hours. Students are responsible for supplying personal protective equipment (PPE) and basic hand tools that are standard in the welding profession.
You May Also Be Interested In...