Pharmacy Technician Applied Technology Diploma (ATD) Information
View Course Requirements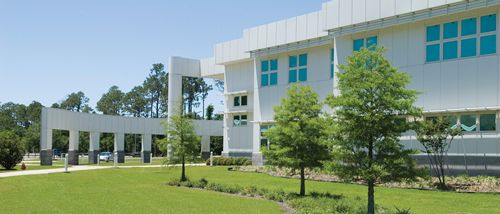 Contact the Pensacola State College Allied Health Department for assistance in planning your program of study.
Documents & Links
Search For Another Program
Introduction to the Pharmacy Technician Applied Technology Diploma (ATD) Program
The program prepares graduates to work in both institutional and community pharmacy settings under the supervision of a pharmacist. Pharmacy technicians assist pharmacists in dispensing medications and are accountable to the supervising pharmacist who is legally responsible through state licensure for the care and safety of patients served by the pharmacy.
Pharmacy technician job duties include providing medication and other health care products to patients and working with third party agents and physicians in resolving adjudication of patients' insurance or state program. Pharmacy technicians often do the routine tasks associated with preparing and providing prescribed medications to patients, but may also do compounding of medications, doctor calls, expense and medication orders, returns and expired credits, and non-licensed pharmacy management. State rules and regulations as well as job policies and procedures define the functions and responsibilities of pharmacy technicians.
Special Admission Requirements
Student enrollment in the program is limited. The number of students in each class shall be determined by the availability of space, equipment, qualified faculty, and institutional and community clinical facilities necessary for a meaningful education. Only one class per year is accepted. Program acceptance is based on selection from all qualified applicants meeting the minimum criteria on a first-qualified/first-seated basis. All applicants who meet the established criteria will be accepted into the program. However, not all will be guaranteed seats in the class of their choice if the application is not completed in a timely fashion.
Minimum requirements for eligibility to the program include high school diploma or GED. Applications for both the College and program must be on file. Applicants must have a GPA of 2.0 or higher and be at least 17 years of age. Final admission to the program is contingent upon submission of satisfactory physical examination/immunization forms, a federal background check and a drug screen. Admissions information packets are available on the Pensacola State College website.
Is This For You?
People who enter this career are often described as "doers." They are organizers who like physical hands-on activities and working with charts and reports. They enjoy a friendly environment, have a cooperative attitude, and want to be of service to others. This career attracts persons who are reliable and dependable and are willing to take on responsibilities and challenges.
Beyond Graduation . . .
Pharmacy Technicians are required to obtain a State of Florida registration and encouraged to take a national certification exam. Registration and certification requirements vary by state.
Related Career Opportunities
Primary Employers
Graduates from the Pharmacy Technician program work in hospitals and drug, general merchandise, and grocery stores.
Occupations
Pharmacy Technicians
Work under the supervision and direction of a registered pharmacist. They must maintain good organizational skills in an environment where keeping things neat and organized is essential for patient safety. Technicians receive and store incoming supplies, and maintain proper storage and security conditions for drugs. They answer telephones, responding to questions or requests, and help customers by answering simple questions or referring them to the pharmacist. They receive written prescription or refill requests and verify the information. They file prescriptions that have been filled and establish and maintain patient profiles, including lists of medications taken by individual patients. In institutional settings, responsibilities can also compounding medications, compounding intravenous fluids for injection, and specialized patient treatments under the direct supervision of a pharmacist. Pharmacy technicians can also assist the pharmacist by reviewing current medications with patients and clarifying how the patients are taking medications at home to streamline the pharmacist's consultation with the patient.
Employment Trends
For more information regarding first-year earnings for degree completers and student debt accumulation download or view the Economic Security Report of Employment and Earning Outcomes Click Here, published by the Department of Economic Opportunity.
Escambia/Santa Rosa Counties
Occupation
Pharmacy Technicians
2015 Cur. Openings
530
2023 Prj. Openings
601
Est. Annual Openings
13.9
2015 Avg. Median Salary
$28,428.31
Okaloosa / Walton Counties
Occupation
Pharmacy Technicians
2015 Cur. Openings
215
2023 Prj. Openings
240
Est. Annual Openings
5.1
2015 Avg. Median Salary
$29,304.31
All Florida Counties
Occupation
Pharmacy Technicians
2015 Cur. Openings
26046
2023 Prj. Openings
30564
Est. Annual Openings
809.9
2015 Avg. Median Salary
$28,824.60
You May Also Be Interested In...