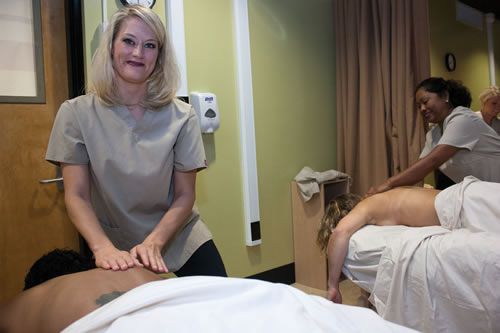 Contact the Pensacola State College Professional Service Careers Department for assistance in planning your program of study.
View Course Requirements
SEARCH PROGRAMS
INTRODUCTION
The professional Massage Therapy Program is a 750 clock hours (25 vocational credits), vocational certificate program that prepares students for employment as a Florida licensed massage therapist. The program content includes but is not limited to the theory and practice of massage, theory and practice of hydrotherapy, hygiene, practice demonstration, human anatomy and physiology, legal aspects of massage practice, allied modalities, leadership and human relations skills, health and safety, and employability skills.
Individuals successfully completing the program will be eligible to sit for the Florida Department of Health, Board of Massage Therapy license examination.
Students must select either the full-time daytime track lasting approximately eight months (two semesters) or the part-time evening track lasting approximately twelve months (three semesters). Both tracks are designed to comply with course of study classroom hours as stated in F.A.C. 64B7-32.003.
Admission to this program is based upon receipt date of completed application requirements. Once a particular class is full, the remaining qualified applicants are automatically listed as alternates for that class. Applicants are strongly encouraged to contact the Pensacola State College Massage Therapy coordinator for assistance.
Contact the Professional Service Careers Department for assistance in planning your program of study.
IS THIS FOR YOU
People who enjoy working within this career usually have social and/or athletic skills. They are interested in human wellness more than working with things or ideas. People in this career are sometimes described as sociable, persistent, and patient.
BEYOND GRADUATION
Graduates of the Massage Therapy program may choose to continue their education within the healthcare field, such as obtaining an Associate of Science (A.S.) college degree in the Physical Therapist Assistant program at Pensacola State College.
RELATED CAREER OPPORTUNITIES
Primary Employers
Graduates from the Massage Therapy program will support special health, beauty, and massage salons, health clubs, chiropractic and sports rehabilitation clinics, and may be self-employed.
Occupations
Massage Therapists
Work to produce physical, mental, and emotional benefits through the manipulation of soft tissue. Auxiliary methods such as the movement of joints and the application of dry and steam heat are used. Various types of massage techniques are used to affect different body problems. Techniques include kneading (using light or hard rhythmic stroking, pressing, and lifting the muscle), tapotement (tapping), and rolfing (involving deep massage with intense pressure). Trigger point therapy focuses on a painful area in a muscle and reflexology is applied to specific points on the feet and hands thought to correspond to particular parts of the body. Massage therapists may use rollers, vibrators, and heat and cold applications to produce desired results. Other job titles may include massotherapists, masseuse/masseurs, or bodyworkers.
You May Also Be Interested In...