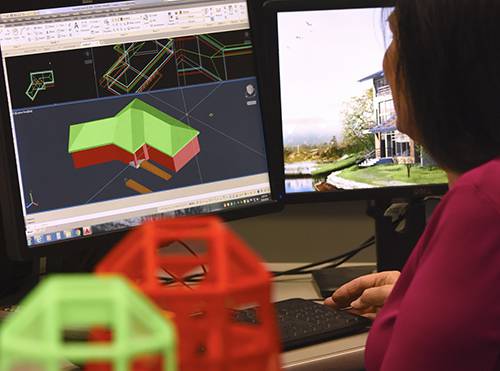 Contact the Pensacola State College Engineering Technology Department for assistance in planning your program of study.
View Course Requirements
SEARCH PROGRAMS
INTRODUCTION
The Mechanical Designer / Programmer Certificate reflects the culmination of those learned skills and proficiencies that allow a student become proficient in 3D mechanical design with the use of Solidworks and Inventor. Students have the opportunity to acquire certifications in MasterCam 2D & 3D toolpath processes and programming. At completion students should be prepared to take the Solidworks certificate exam. Students will process their designs on various Haas machining centers. There are employment opportunities as a Mechanical Designer in the local and regional areas. While working on your classes you may choose to co-op to gain valuable working experiences as you learn. This certificate can be completed in two semesters allowing you to start a new career in the machining and fabrication industry as a Mechanical Designer / Programmer. All courses used in the certificate are also applicable to the Engineering Technology A.S., Specialization: Mechanical Design & Fabrication degree.
We strongly encourage that you contact the Engineering Technology Department for assistance in your decision to take coursework and in the planning of your program of study.
IS THIS FOR YOU
People in this career like to find answers to problems by doing hands-on work. They like to stay busy with a variety of work tasks. These workers need good eye-hand coordination, spacial thinking, form perception, and finger and manual dexterity. They may be described as doers.
BEYOND GRADUATION
This technical certificate comprises four essential core courses that can count toward the completion of an Associate of Applied Science (A.A.S.) degree in Mechanical Design and Fabrication at Pensacola State College. The A.A.S. degree at Pensacola State offers on-the-job experience through the Cooperative Education Program
RELATED CAREER OPPORTUNITIES
Primary Employers
Graduates from the Mechanical Designer/Programmer program are prepared for entry level employment as a Solidworks designer and MASTERCAM CNC programmer in any manufacturing environment.
Occupations
Die Designers
Develop die plans for stamping, forming, forging, or extrusion presses.
Drafters
Make detailed drawings for the manufacture of structural, mechanical, and ornamental parts.
Controls Designers
Assist engineers in designing and drafting control systems for machines and equipment.
You May Also Be Interested In...