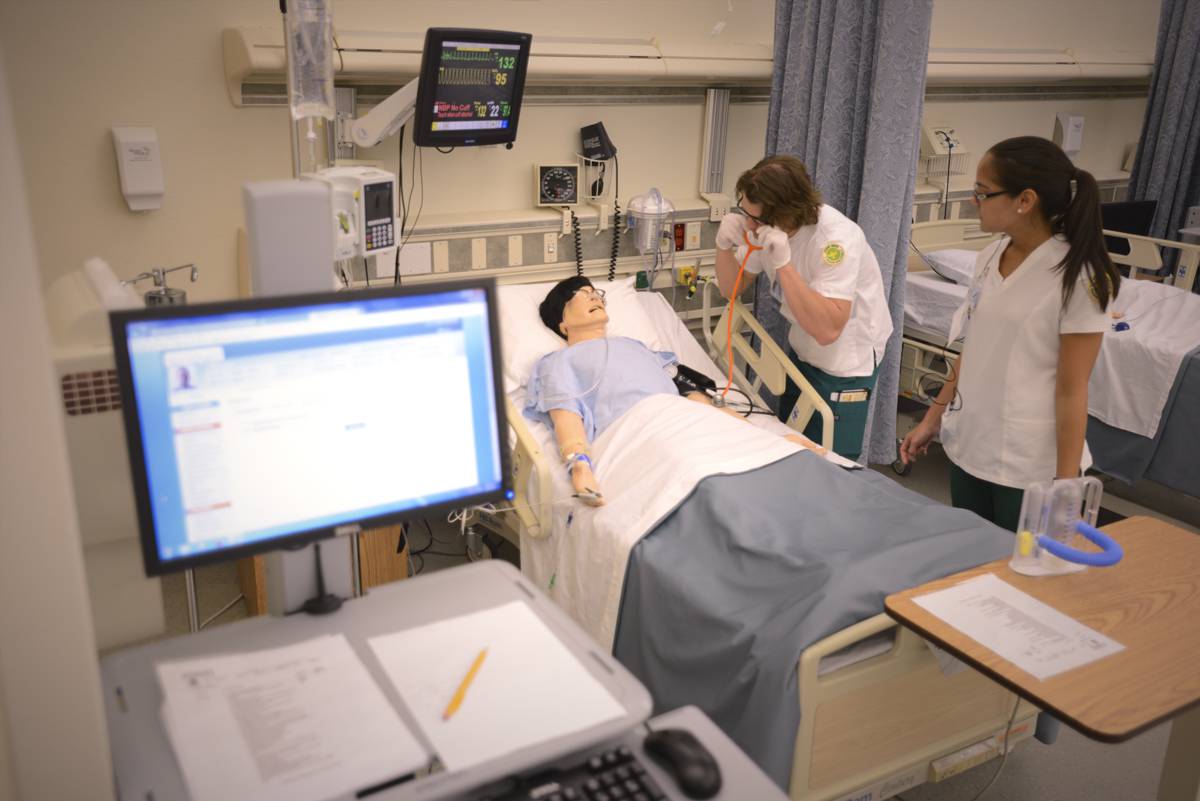 Contact the Pensacola State College Nursing Department for assistance in planning your program of study.
View Course Requirements
ACCREDITED BY:

The Practical Nursing program is approved by the Department of Health, Board of Nursing located at 4052 Bald Cypress Way, Bin C-02, Tallahassee, FL 32399.
The Practical nursing program at Pensacola State College at the Warrington campus located in Pensacola, Florida is accredited by the:
Accreditation Commission for Education in Nursing (ACEN)
3390 Peachtree Road NE, Suite 1400, Atlanta, GA 30326
404.975.5000
The most recent accreditation decision made by the ACEN Board of Commissioners for the Practical nursing program is Continuing Accreditation.
View the public information disclosed by the ACEN regarding this program at
http://www.acenursing.us/accreditedprograms/programSearch.htm
SEARCH PROGRAMS
INTRODUCTION
The mission of the Department of Nursing is to provide quality educational opportunities for students seeking to enter or advance in the nursing profession. The Department of Nursing is committed to creating a learning environment that fosters academic, personal and professional growth by supporting the professional nursing standards of care to meet the health care needs of the community.
The Practical Nursing program is designed to prepare the student to perform safe nursing care as a Practical Nurse under the direction of a Registered Nurse or a licensed physician. Entry-level skills are acquired through classroom instruction and supervised experience in the laboratory and hospital. The program completers are eligible to take the National Council Licensure Examination for Practical Nurses (NCLEX-PN).
Special Admission Requirements
Admission to this program is limited by student/faculty ratios and availability of clinical resources; therefore, students seeking admission to the program must complete application to both the College and the program. All application requirements must be completed before a student will be considered for admission to the practical nursing program. Admission is based on a first qualified, first accepted. Students are required to pass a criminal background check and urine drug screen prior to clinical experiences. Also required are a satisfactory physical examination and immunization forms and current CPR certification at the Health Care Provider level (American Heart Association).
Program Student Learning Outcomes
Upon successful completion of the Program, the student will:
1. Demonstrate professional and leadership qualities necessary to be a team leader.
2. Demonstrate communication as both a team member and a team leader.
3. Demonstrate introductory knowledge of the nursing process and nursing as a skill related to practice.
4. Demonstrate ability to deliver quality care to assigned clients as a team member and demonstrate ability to oversee the care delivered by team members as a team leader.
5. Demonstrate ability to participate in shared planning decision making, problem solving, and goal setting by nursing, client, significant support person(s) and peers.
Department of Nursing Goals
GOAL 1: Recruit students to fulfill community needs;
GOAL 2: Respond to community needs by providing new programs and/or certificates;
GOAL 3: Encourage students to participate in activities to support personal development during and after the nursing program to support the philosophy of lifelong learning;
GOAL 4: Receive grant funding for Department of Nursing;
GOAL 5: Prepare students to articulate from PN to ADN to BSN and MSN programs, if they choose;
GOAL 6: Prepare students to work competently in health care facilities in the community;
GOAL 7: Refer students to support services for academic assistance; and
GOAL 8: Respond to community health care needs by graduating potential employees.
Licensure Examination Pass Rate
The most recent annual pass rate will be at least 80% for all first-time-test-takers on the National Council Licensure Exam (NCLEX) from January 1 to December 31, 2019.
| | | | | |
| --- | --- | --- | --- | --- |
| Year | National Average | State of Florida Average | Pensacola State College | Outcome |
| 2019 | 85.63% | 72.09% | 84.62% | Met |
| 2018 | 85.91% | 75.56% | 86.67% | Met |
| 2017 | 83.84% | 75.11% | 84.62% | Met |
Program Completion Rate
At least 50% of all students will graduate within 150% (5 semesters) of program enrollment in the first nursing course, PRN 0098C.
| | | | | |
| --- | --- | --- | --- | --- |
| Cohort | # Enrolled | # Graduated | Completion Rate % |  Outcome |
| 2019 | 26 | 21 |  80% |  Met |
| 2018 | 22 | 13 |  59% |  Met |
| 2017 | 22 | 15 |  68% |  Met |
Job Placement Rate
At least 75% of graduates will report employment as a Practical Nurse within 6 months of graduation.
| | | | | |
| --- | --- | --- | --- | --- |
| Cohort | # Graduated | Successfully Contacted | Job Placement Rate % |  Outcome |
| 2019 | 23 | 12 | 75% |  Met |
| 2018 | 13 | 9 | 100% |  Met |
| 2017 | 15 | 13 | 100% |  Met |
IS THIS FOR YOU
People who enjoy working with people, are cooperative and patient, and like to work in duties that often change will be suited to this career. Persons in this occupation must have social skills and an interest in human relationships.
A PN program applicant should possess the following capabilities:
1. Sufficient physical, motor, sensory, intellectual, emotional, and social/ communication skills to provide safe patient care utilizing a variety of equipment in different healthcare environments. Examples of performance standards for nursing practice are outlined below.
2. Be of sound mind and body to perform the professional duties of a nursing student without becoming injurious to self or others.
Technical

Standards/ Physical

Abilities & Skills

Standard

Examples

Mobility

Physical abilities sufficient to move independently from room to room, walk in hallways, maneuver in small places such as patient rooms, medication rooms.

Walking independently with patients from department to department, around the patient room, down the corridor, from one patient room to another to take care of all patients on a team and to assist in the transport of all patients from bed to bed, bed to chair. Walking, standing, sitting for long periods of time, stooping, lifting patients weighing, squatting, reaching, twisting, bending, pushing, pulling, dragging, climbing.

Motor

Skills

Gross and fine motor skills to practice safe and efficient patient care. Sufficient manual dexterity to manipulate equipment in the patient care setting.

Manual dexterity to start a patient's intravenous line, set alarms on monitors, draw up and give injections to patients without extraneous movement.

Hearing

Auditory ability sufficient to monitor and assess health needs.

Auscultation of breath sounds, heart sounds, blood pressure, bowel sounds, hearing alarms, call bells telephones in patient care, converse with patients, family and staff from varying distances with varying audible sounds.

Visual

Visual ability sufficient for observation and assessment necessary to provide safe patient care.

Reading patient charts/flow sheets/monitors, drawing up and administering medications, assessing patient skin tones, reading thermometers, assessing wound status, non-verbal behaviors.

Tactile

Tactile ability sufficient for physical assessment and to provide safe patient care.

Performing palpation, giving injections, starting IV's, sterile

and non-sterile dressing changes, urinary catheterization, assess skin temperature and texture and assist with patient care activities

Communication

Communication abilities sufficient for interaction with others incoherent and concise oral and written form.

Following spontaneous verbal and/or written instructions. Is able to effectively communicate in English. Must be able to communicate the patient's response to therapy to other members of the healthcare team, document patient responses to therapy on health care forms utilizing various forms of media, consult with healthcare team members/workers in a professional manner.

Interpersonal

Interpersonal skills sufficient for interaction with patients, families, and groups from diverse backgrounds (cultural, emotional, intellectual) in a variety of healthcare settings

Conversing effectively with patients, families, and groups and in stressful patient care situations such as emergencies.

Critical

Critical thinking sufficient for clinical decision-making

Competent assessing a patient in a timely manner and correctly interpreting assessment. Readily responding with appropriate nursing/medical interventions and treatment plans. Can work in isolation independently for positive patient outcome.
BEYOND GRADUATION
Graduates from the Practical Nursing program are eligible to take the State Board Licensure examination. Graduates may choose to continue their education to obtain the Associate degree in Registered Nursing at Pensacola State College.
RELATED CAREER OPPORTUNITIES
Primary Employers
Graduates from the Practical Nursing program work in hospitals, nursing, and personal care facilities, and offices and clinics of doctors of medicine.
Occupations
Licensed Practical Nurses (LPN)
Care for the sick, injured, convalescing, and handicapped, under the direction of physicians and registered nurses. LPNs provide basic bedside care. They take patients' vital signs, help patients with bathing, dressing, and personal hygiene, and care for their emotional needs. Some experienced LPNs supervise nursing assistants and aides. In nursing homes, LPNs may help evaluate residents' needs, develop care plans, and supervise nursing aides in addition to providing routine bedside care. In doctors' offices and clinics, including health maintenance organizations, they may also make appointments, keep records, and perform other clerical duties. LPNs who work in home health may also prepare meals and teach family members simple nursing tasks.
You May Also Be Interested In...