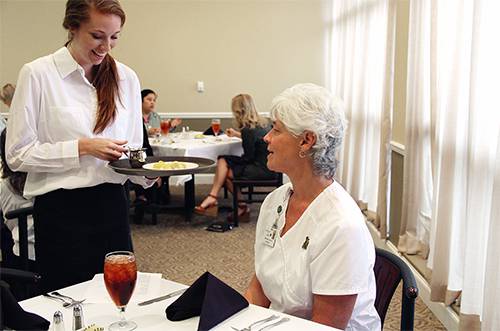 Contact the Pensacola State College Culinary and Hospitality Management Department for assistance in planning your program of study.
View Course Requirements
RELATED DOCUMENTS
RELATED LINKS
SITE LINKS
SEARCH PROGRAMS
INTRODUCTION
The purpose of this program is to prepare students for employment in hospitality and tourism-related positions in the food and beverage management area. Possible job titles include Assistant Hospitality Manager, Catering/Sales Service Representative, Food and Beverage Specialist, and Hospitality Manager. Skills emphasized in this program include hotel staffing operations, legal issues affecting the hospitality industry, liability and risk management, set up and control maintenance, energy consumption management, planning and maintaining of purchasing and receiving procedures, customer service, and human relations. This technical certificate is part of the Hospitality and Tourism Management AS degree.
IS THIS FOR YOU
People who prefer this career like to work indoors. This type of person enjoys working with people more than ideas and things. Those who are ambitious, sociable, friendly, and have leadership skills may be interested in this program.
BEYOND GRADUATION
Experience working in the hospitality industry (hotel, restaurant, food service, travel, etc.) part-time or full-time while in school, is an asset to anyone seeking a career in the industry. Students wishing to continue their education may take additional courses to earn a two-year Associate in Science (A.S.) degree in Hospitality and Tourism Management at Pensacola State College. Larger hotels and restaurants may offer more opportunities for advancement than smaller operations. The large chains have more extensive career ladders and/or may have management training programs. The ability to relocate will increase your potential for promotions and may be necessary for advancement
RELATED CAREER OPPORTUNITIES
Primary Employers
Graduates from the Hospitality and Tourism Management Technical Certificate programs support the hotel, motel, and restaurant industry. Both large chains and smaller businesses are available for employment. In addition, some may seek to be self-employed and own their own restaurant, motel, or hotel.
Occupations
Food and Beverage Specialists
May apply skills related to customer service and human relations, hotel staffing operations, legal issues affecting the hospitality industry, liability and risk management, the set up and control of maintenance, energy consumption management, the planning and maintaining of purchasing and receiving procedures.
Rooms Division Specialists
May apply skills in effective selling techniques, customer service, communication, and human relations, as well as an understanding of marketing and business fundamentals, to perform general hotel, front office management and property management duties.
Event Planners or Coordinators
Are prepared for planning, coordinating, catering, and providing services, at special events, conferences, seminars, hotels, motels, and restaurants.
Food Service Manager
Plan, direct, or coordinate activities of an organization or department that serves food and beverages.
Cook, Restaurant
Prepare, season, and cook dishes such as soups, meats, vegetables, or desserts in restaurants. May order supplies, keep records and accounts, price items on menu, or plan menu.
Other Occupations
Assistant Hospitality Manager
Food Service
Assistant Manager
Lodging Assistant
Manager Assistant
Sales Manager or Coordinator
Front Office Representative
Motel/Hotel Manager
Catering Coordinator or Salesperson
Guest Services Representative
Resort Manager Food and Beverage Specialist
Hospitality Manager
Room Division Service Representative
You May Also Be Interested In...