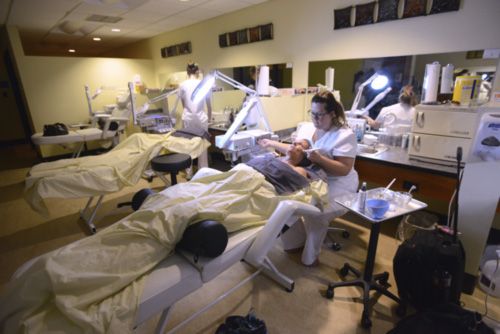 Contact the Pensacola State College Professional Service Careers Department for assistance in planning your program of study.
View Course Requirements
SEARCH PROGRAMS
INTRODUCTION
Our Facials/Skin Care Specialist program is a one-semester program of study that prepares skin-care students for licensure and a career in the esthetics profession.
In an age of specialization, the esthetician plays a crucial role in the cast of our Salons and Day Spas. As a Certified Facials/Skin Care Specialist, your skills as a make-up artist and skin-care technician will serve you well in a world where "pampering" is no longer a luxury enjoyed by the privileged few. Studies will emphasize the structure and function of the skin and will prepare students to crucially assess and meet the unique needs of each client. The program delivers a strong foundation in the applied and general sciences. Business and career development classes, along with training in Florida laws and regulations, are also offered. The program offers instruction in basic facials, color theory, makeup artistry, body treatments, lash application, brow tinting, and hair removal. Each of our comprehensive programs also covers sanitation procedures, bacteriology, chemistry, electricity such as 81 machines, and the use of microdermabrasion.
Admission is by application only. Please contact the program coordinator in Building 12 at (850) 484-1642.
We strongly encourage you to contact the Professional Service Careers Department for assistance in planning your program of study
IS THIS FOR YOU
Those who enjoy working with people, have social skills and are interested in human relationships, may be interested in this career. People in this career are described as being creative and friendly.
BEYOND GRADUATION
Graduates of the Facials Specialty program at Pensacola State College are qualified to work within esthetics, skin care, and make-up applications. Students may also choose to further skills through completion of the Advanced Esthetics, Cosmetology, and/or Nails Specialty program(s) to qualify for work in hair, nail, and skin care.
RELATED CAREER OPPORTUNITIES
Primary Employers
Graduates from the Facials Specialty program support the personal services industries, primarily working in large and small full-service beauty salons or within specialty service salons. With experience, graduates can open and manage their own businesses.
Occupations
Facial Specialists
Licensed professionals who combine artistic, technical, and communication skills to provide skin care services in the cosmetic industry. They enhance the esthetic quality of the face through the use of make-up applications which enhance the appearance of the skin and facial features as well as camouflage irregularities of the face.
Estheticians are skin care specialists who cleanse and tone the face through therapeutic manipulations that stimulate circulation and enhance muscle tone.
Many facial specialists work on commission in conjunction with cosmetologists or own their own business.
Spa Manager
Plan, direct, or coordinate activities of a spa facility. Coordinate programs, schedule, and direct staff, and oversee financial activities.
Barber
Provide barbering services, such as cutting, trimming, shampooing, and styling hair, trimming beards, or giving shaves.
Hairdresser, Hairstylist, and Cosmetologist
Provide beauty services, such as shampooing, cutting, coloring, and styling hair, and massaging and treating scalp. May apply makeup, dress wigs, perform hair removal, and provide nail and skin care services.
Makeup Artist, Theatrical and Performance
Apply makeup to performers to reflect period, setting, and situation of their role.
Other Occupations
Manicurist and Pedicurist
Skincare Specialist
You May Also Be Interested In...