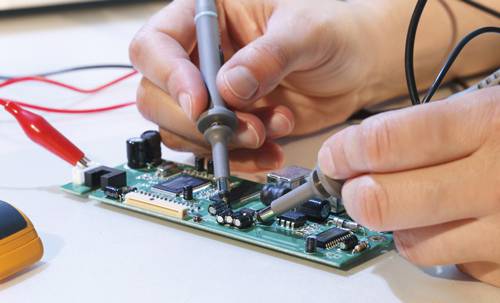 Contact the Pensacola State College Engineering Technology Department for assistance in planning your program of study.
View Course Requirements
SEARCH PROGRAMS
INTRODUCTION
The Electronics Engineering Technology Program provides students with the fundamentals of electronics that will prepare them as technicians in a variety of fields including computer technology, networking, instrumentation, and biomedical. Selected specialty courses are available to provide detailed instruction in these technical areas. The content includes but is not limited to DC circuits, AC circuits, solid-state devices, analog circuits, digital fundamentals, and circuits. Integrated into this content will be communications skills, employability skills, safe and efficient work practices, use of circuit diagrams and schematics, and soldering. The program includes lecture and significant hands-on lab experiences. The program focuses on a common core of foundational, intermediate and advanced courses required of all students. Students will then specialize in one or more emphasis areas depending on their career goals. Students are strongly urged to consult with the Department when selecting their courses.
The Associate in Science degree in Electronics Engineering includes College Credit Certificates in:

Basic Electronics Technician
Electronics Technician
Laser and Photonics Technician
Robotics and Simulation Technician

Students in this program are encouraged to apply to graduate with the certificate as the requirements are satisfied.
We strongly encourage that you contact the Engineering Technology Department for assistance in planning your program of study.
IS THIS FOR YOU
People in this career like to work with tools and machines and have mathematical and mechanical abilities. They must meet strict standards, have good eye and hand coordination with above average finger and hand dexterity.
BEYOND GRADUATION
Technicians usually begin by performing routine duties under the close supervision of an experienced technician, technologist, engineer, or scientist. As they gain experience, they are given more difficult assignments with only general supervision. Some engineering technicians eventually become supervisors. As technology becomes more sophisticated, employers will continue to look for technicians who are skilled in new technology and require a minimum of additional job training. An increase in the number of jobs related to public health and safety should create job opportunities for technicians
RELATED CAREER OPPORTUNITIES
Primary Employers
Graduates from the Electronics Engineering Technology program support manufacturing, utilities, business/computer services, home electronic repair, and medical equipment repair services.
Occupations
Biomedical Equipment Technicians
Inspect, calibrate, maintain, repair, and install complex medical equipment and instrumentation used in medical therapy and diagnosis. These technicians may specialize in equipment used in healthcare areas such as radiology, nuclear medicine, laser technology or patient monitoring.
Electronics Engineering Technicians
Help develop, manufacture, and service electronic equipment such as radios, radar, sonar, television, industrial and medical measuring or control devices, navigational equipment, and computers, often using measuring and diagnostic devices to test, adjust, and repair equipment.
Instrumentation Technicians
Test, inspect, maintain, and help to develop complex instruments, such as strain gauges and pressure gauges, that sense, measure, and record changes in industrial environments. Some instrumentation technicians operate laboratory equipment to test instruments on performance, while others design and build new apparatus or modify old designs.
Telecommunications Technicians
Install and repair a wide variety of telecommunication equipment, including telephones, satellite hook-ups, telegraph transmitters and receivers, private branch exchanges, and microwave communications systems. Technicians adjust transmitters, electronically test hook-ups, and design and test communications systems.
Other Occupations
Computer Service Technician
Electronics Aides
System Technician
Digital/Analog Electronics Tester
Electronics Specialist
Telecommunications Specialist
You May Also Be Interested In...