INTRODUCTION
The Career Certificate in Commercial Vehicle Driving prepares students for licensure and employment in the trucking industry. This 320 clock hour program uses a combination of theoretical, simulation, and hands-on instruction. Each student is strongly encouraged to consult an advisor or counselor prior to course registration.
Truck Driving Program Commercial Vehicle Driving

Pensacola State Colleges' commercial vehicle driving program is accredited by the Southern Association of Colleges and Schools Commission on Colleges (SACSCOC). The program is also in compliance with the FMCSA ELDT strict standards for training new drivers.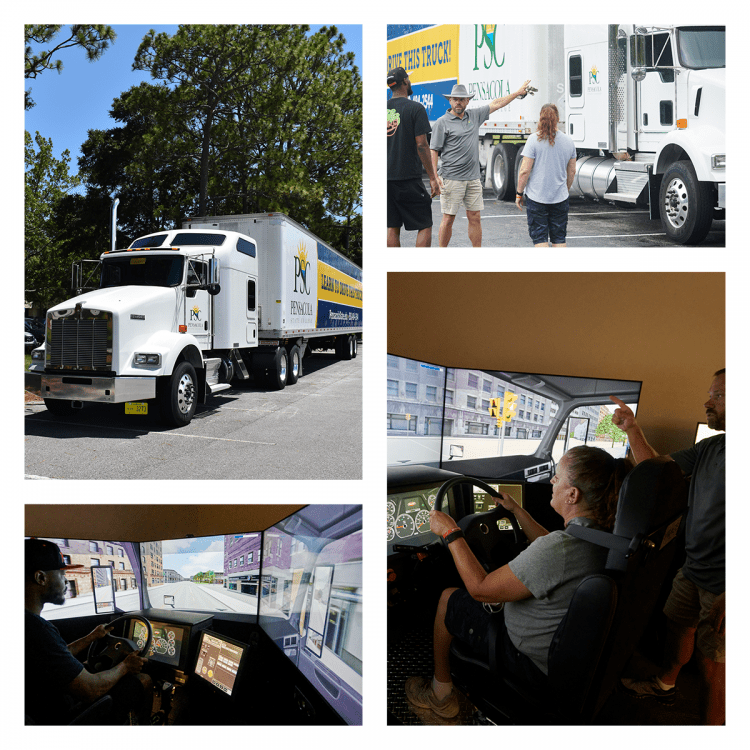 The format for driver training is a combination of classroom, lab, and behind-the-wheel components. This will include lectures, modern computerized stimulation, driving range, highway, interstate, county, and city driving. Additionally, faculty and staff will demonstrate US Department of Transportation rules and regulations, preventive maintenance, current events in the industry, and the pre-trip.
Tuition for Florida Residents begins at $2,585.00 and includes testing at a Florida third-party facility. Based on availability, there are scholarships and grants to assist interested students.
There is no better way to start your exciting new future than training at Pensacola State College.
Additionally, we will help you find full-time employment with trucking companies that hire our graduates. You can choose if you want to stay local or go over the road (interstate).
Faculty
Pensacola State College has on staff State of Florida certified commercial vehicle driving instructors. Additionally, they all bring with them decades of road experience in training.
Entrance Requirements
Students must be at least 18 years of age – students that are 18 to 21 years of age are only allowed to drive within state lines. Upon gaining a seat in the program, students are responsible for providing a DOT long form physical, a pre-employment drug test, and a 7-year driving history printout from the Department of Motor Vehicles. Pensacola State College will help with lectures to obtain your class A commercial learners permit (CLP). You must pass the general knowledge, air brake, and combination vehicle components to continue in the program. You may obtain the CLP before the first day of class on your own.
Course objectives
Develop driving skills to maneuver a tractor-trailer and various real-life situations
Students will be immersed in safety regulations and processes throughout the program
Practice US DOT rules, regulations, and law while on the road
Give students driving experience on public streets and highways in real-world behind-the-wheel settings
Develop proper attitude while driving
Provide a general overview of the trucking and logistics industry. How it functions and driver expectations
Successfully pass the state of Florida CDL practical skills
You May Also Be Interested In...