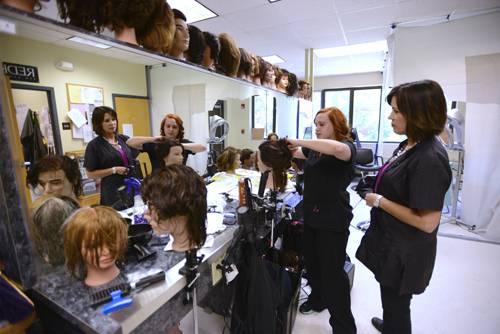 Contact the Pensacola State College Professional Service Careers Department for assistance in planning your program of study.
View Course Requirements
SEARCH PROGRAMS
INTRODUCTION
Cosmetology is a twelve-month, 1200 clock hour program of study that prepares students for State licensure and employment in the areas of hair, nail, and skin care. Classes begin in August, January, and May and are limited to spaces available. The Cosmetology program is offered on the Pensacola and Milton campuses.
For questions regarding entrance requirements and program application, please refer to the Cosmetology Application Packet under the Documents Section.
IS THIS FOR YOU
People considering this career should enjoy working more with people than things. They enjoy being creative, should have a good imagination, and are sometimes described as sociable, tactful, and patient.
BEYOND GRADUATION
Graduates of the Cosmetology program at Pensacola State College are qualified to work in hair, nail, and skin care. Because hairstyles are constantly changing, cosmetologists must keep abreast of the latest fashions and beauty techniques. Business skills are important for those who plan to operate their own salons. Advancement usually is in the form of higher earnings. Some cosmetologists manage large salons or open their own after several years of experience. Some teach in barber or cosmetology schools. Others become sales representatives for cosmetics firms, open businesses as beauty or fashion consultants, or work as examiners for State licensing boards. Students may also choose to obtain the Nails Specialty and Facials Specialty certificates which qualify them to work in manicure, pedicure, nail extension, and skin care services.
RELATED CAREER OPPORTUNITIES
Primary Employers
Graduates from the Cosmetology program support the personal services industries, working in large and small salons or with experience owning and managing their own business.
Occupations
Cosmetologists/Hairdressers
Combine technology and people skills to provide hair care services in the beauty culture industry. Cosmetologists shampoo, cut, style, permanent-wave, relax and color hair, and advise patrons on how to care for their hair, skin, and nails. Most cosmetologists work on commission or booth rental in a salon, both full or part-time, or operate their own business.
You May Also Be Interested In...