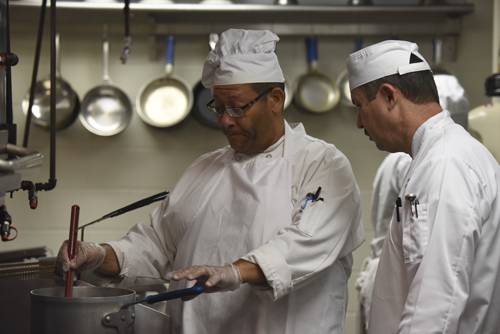 Contact the Pensacola State College Culinary and Hospitality Management Department for assistance in planning your program of study.
View Course Requirements
ACCREDITED BY:
The Culinary Management program at Pensacola State College is accredited by the American Culinary Federation 6816 Southpoint Parkway, Ste. 400, Jacksonville, FL  32216; telephone: 904.824.4468; email: at acf@acfchefs; website: www.acfchefs.org.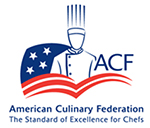 SEARCH PROGRAMS
INTRODUCTION
This program in Culinary Management prepares individuals for careers in the many widely varied areas of the culinary industry. The Culinary Management program provides the student with a unique combination of comprehensive theoretical knowledge and hands-on training. The program is carefully structured to meet the requirements of American Culinary Federation Education Foundation Accrediting Commission. Students will master the fundamentals of culinary production in an environment that builds teamwork while gaining practical individualized experience.
Students may receive dual credits toward Diploma and/or professional certificates with appropriate courses in the program.
Because of limited lab resources, enrollment for FSS 1220C and FSS 1063C is limited to Culinary students unless prior approval from the program coordinator is obtained. Preferences will be given to Culinary students who have completed or substantially completed general education courses followed by Culinary students who have completed all required developmental courses. Any remaining seats will be available to Culinary students who have not yet completed required developmental courses or who have received special permission from the program coordinator.
The Associate in Science degree in Culinary Management includes College Credit Certificates in:

Chef Apprentice
Culinary Arts
Culinary Arts Management

Students in this program are encouraged to apply to graduate with the certificate as the requirements are satisfied.
We strongly encourage you to contact the Professional Service Careers Department for assistance in planning your program of study.
IS THIS FOR YOU
People who enjoy working indoors, with food, serving others, and being part of a team, may be interested in culinary management as a career. If you are energetic, self-confident, creative, and persistent, you have the personal traits needed to be successful in this career
BEYOND GRADUATION
To advance in their career, students can obtain certification by the American Culinary Federation at a level commensurate with any previous experience. Restaurant and food service managers can obtain the Food Service Management Professional certification which is a measure of their professional achievement.
Executive chefs need extensive experience working as line cooks and sous chefs and general managers need experience working as assistant managers. Willingness to relocate often is essential for advancement to positions with greater responsibility. Managers advance to larger establishments, or regional management positions within restaurant chains
RELATED CAREER OPPORTUNITIES
Primary Employers
Graduates from the Culinary Management program will provide food services within a large variety of industries including restaurants and other retail eating and drinking establishments, and institutions such as schools, colleges, hospitals, and nursing homes. Other employers include grocery stores, hotels, and private catering services.
Occupations
Culinary Managers
Involves the production of food, and the management of food production and services. A wide range of opportunities exists for culinary artists with experience and formal training as cooks, chefs, maitre d's, managers, and health inspectors, in restaurants, schools, supermarket delis and bakeries, health care facilities, and government agencies. Employment opportunities are also found in the sale of food supplies and services, and in catering, food design, and edible product development.
Other Occupations
Baker
Culinary Manager
Kitchen Manager or Assistant
Kitchen Supervisor
Prep, Lead, or Pantry Cook or Chef
STUDENT OUTCOMES
| | | | |
| --- | --- | --- | --- |
| Associate in Science in Culinary Management | Graduation Rate (%) | Job Placement Rate (%) | ACF Certification Rate (%) |
| 2020 – 2021 | 24% | 75% | 11% |
| 2021 – 2022 | 83% | 66% | 12% |
You May Also Be Interested In...