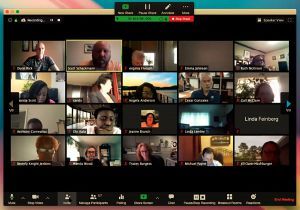 Published: 04-09-2020
Mike Suchcicki, Pensacola State College
As soon as the coronavirus threatened to block Pensacola State College students and faculty from classrooms, administrators developed an emergency plan to move courses online.
Fortunately they had a team of instructors already well-versed in the Live Online (synchronous online) realm, a team that could be deployed to teach other instructors and professors, a team that soon became known as the "Zoom Crew."
The team, named for the currently popular videoconferencing application, moved swiftly and efficiently, creating training courses, study materials and student tutorials, and acting as mentors to other instructors as the online expansion was rolled out.
Dr. Brenda Kelly, Senior Dean of Academic Affairs, said, "The week before spring break, Dr. (Kirk) Bradley (Dean, Baccalaureate Studies and Academic Support) and I met via Zoom with some of the faculty who have been teaching Live Online classes for a while — Vasanth Ramachandran (Natural Sciences), Scott Schackmann and Mike Bailey (History, Languages, Social Sciences, and Education), Brian Underwood (English) and Rodney Garrett (Communications). We explained that we would be carefully watching developments with the coronavirus, and though we didn't know very much at that time, we asked them if they would be willing to help train their faculty colleagues if necessary. Without any hesitation, they all said that they would help any way they could. Their willingness to help and positive attitudes were a huge comfort to me as we monitored the virus from that point on."
Schackmann said Zoom was an easy choice for an instructional client. Ramachandran, he said, was the first among the PSC Live Online instructors to use Zoom to implement his teaching.
"In my experience, Zoom is simple, straight-forward, and students don't need to download a desktop client to attend course meetings," Schackmann said. "We made the decision over a year ago for the College to purchase the licensed pro version so that it could be integrated into our Canvas LMS (learning management system) for ease-of-use and that has definitely been a great decision given current events. The controls are simple for both host and participant and Zoom may be used on virtually any device: Mac/PC, iPhone/Android, iPad/tablet, etc. Zoom encrypting is also FERPA compliant as Zoom does not share meeting data with third-party sources."
Tutorials were created for posting in what Schackmann called the "one-stop-shop," the Canvas training course, "because that would free up everyone else to conduct more hands-on training in the departments across campus, to provide more informal video tutorials of their creation to assigned mentee departments, and I think it really helped free up what could have been a communication overload for five or six people to field concerned, frantic emails from hundreds of faculty."
Kelly said the original group grew to include additional faculty and staff, including nursing and EMS instructor Buffi Bailey, Executive Director of Institutional Research Mike Johnston, Math Lab specialist Susan Stanton, and English assistant department head Edward Pate.
"The Zoom Crew members have served as mentors to the faculty," Kelly said. "The members were assigned specific departments, and from that point, each scheduled group and one-on-one training sessions with departmental faculty. These training sessions took place, probably around the clock, so that faculty were ready to teach synchronously on March 30. Many of the Zoom Crew were invited into classes this week and offered support to the faculty during class. They continue to update the Canvas course and monitor the discussions there as well."
"I have very little experience with Zoom myself, so I've learned a lot during the past couple of weeks," Garrett said. "Everyone on the crew has been incredibly easy to work with and so helpful. I wouldn't have wished this experience on anyone, but I'm so glad to be going through it with the people involved."
Underwood said, "It was easy to work with this team since we were all committed to building the best platform to deliver instruction to the faculty in such a short time and under such a stressful situation. I very much enjoyed working with this team of colleagues."
"I'm really quite proud of our PSC faculty, staff, and administration during this transition because we really tried our best to focus on not just student success for the coming weeks, but faculty support," Schackmann said. "I believe we did the best with what we had in the time we were given. One week may seem like enough time, but what people need to realize is that in one week, we needed to take a faculty with decades of experience and a wealth of knowledge utilizing a wide array of teaching methods and approaches and give them the tools and support to carry on while maintaining a modicum of normalcy."
"The collaboration across departments and among faculty has been truly inspiring," Kelly said. "Despite the challenges, teachers are still teaching, and students are still learning."
PHOTO: "Zoom Crew" member Scott Schackmann, top row, second from left, uses the video conferencing tool Zoom to conduct a training session with PSC faculty and staff. Photo courtesy Scott Schackmann