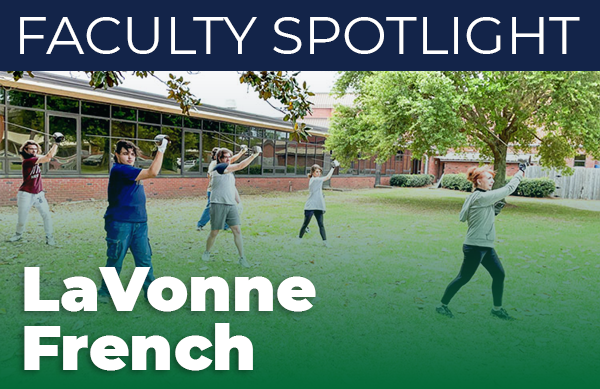 By Troy Moon
Pensacola State College
It was a little jarring, for sure.
A small cadre of Pirates with what looked like fencing sabers in hand were following commands and lead of a fiery, auburn-haired commander.
En garde! Then an advance!
The cadre mirrored every move of their leader, moving forward when she did, retreating only when she did, moving their blades in the same graceful, confident way she did.
OK, it wasn't quite the same way. After all, the group is made up of PSC Performing Arts students. The commander? That's LaVonne French, PSC adjunct instructor who teaches dance and theater and has been in her fair share of sword fights over the years – simulated of course. Her movements were a little more graceful, a little more confident than those of her students.
"Be careful with those,'' she warned a couple of students during a break in the training. "We don't want anyone to get hurt."
They are real swords, after all. French uses them in the Stage Combat Class she teaches as part of a Performing Arts colloquium.
"It's very basic,'' she said of the class. "It's just a little taste of basic sword work. It's fun. It's one of my favorite things here."
French has been an adjunct instructor at the College since 2008. She is a graduate of the University of Missouri-Kansas City Conservatory, where she earned a Bachelor of Fine Arts in Dance. She received a Master of Arts in Interdisciplinary Humanities from the University of West Florida. She is also the PSC Performing Arts Department costumer.
French is one of the founding members and artistic director of SWERVE/dance Company, a Northwest Florida modern dance ensemble.
"I perform once or twice a year, but I prefer to choreograph and watch from behind the scenes,'' she said. "I like to see the things happening on stage."
French said she has always been active and was a gymnast as a child.
"I didn't start dancing as a kid,'' she said. "I didn't take formal dance until later. But then I took ballet and it just grew from there. It becomes almost an obsession. I can't explain it. Dancing becomes your soul, your life."
As much as she enjoys dancing, her true goal was to always teach.
"That was the goal, but then I got involved with performance and got sidetracked for a while,'' French said. "But now, I truly enjoy sharing knowledge with students. I wish everyone would dance. The world would be a happier place if everyone took a dance class. Healthier too."