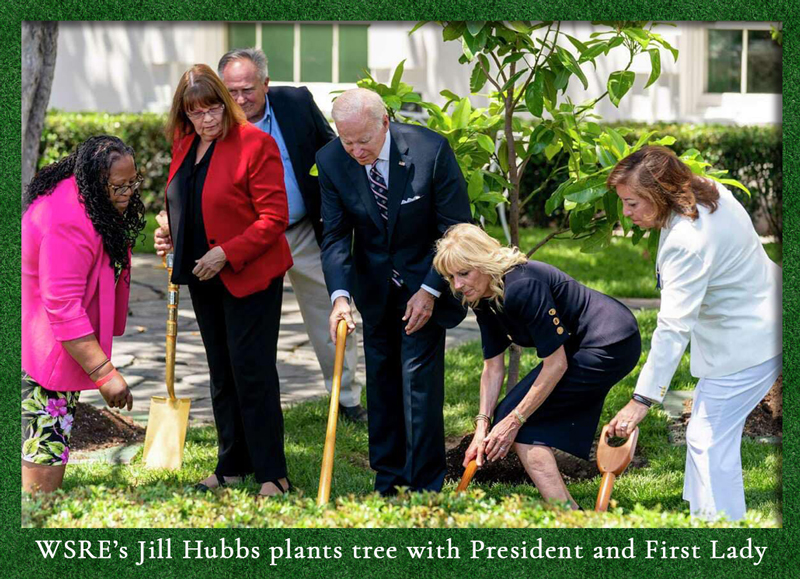 By Troy Moon
Pensacola State College
Just outside the White House Oval Office on Memorial Day, WSRE-TV General Manager Jill Hubbs joined President Joe Biden, First Lady Jill Biden and members of three other Gold Star families to plant a magnolia tree on the South Lawn.
The sapling ─ grown from a seed of a magnolia tree planted at the White House by President Andrew Jackson in 1835 ─ is a memorial to Gold Star families.
Hubbs' father, U.S. Navy Cmdr. Donald Richard Hubbs, was a pilot whose reconnaissance plane disappeared over the North Vietnamese coast on March 17, 1968. He and his three crewmates were listed as missing in action and have never been located. Jill Hubbs was only 10 years old when her father disappeared.
"The President and First Lady could not have been more gracious, genuine or caring,'' Hubbs said. "I had a picture of my Dad and showed it to President Biden and got to talk to him about my father. He asked if he could have the picture. So now the President has a picture of my Dad."
President Jackson planted the tree to honor his late wife Rachel, who died in December 1828 just after he was elected the seventh president and 10 weeks before his inauguration. The Jackson Magnolia is dying and is targeted for removal.
The Gold Star families participated in the tree-planting ceremony after first meeting with the President and First Lady in the Oval Office.
When "Jill Hubbs" was introduced, Jill Biden quipped "Nice name."
"I know,'' Hubbs responded.
The Gold Star family members were invited to the tree-planting ceremony by the White House.
"I don't know how the families were chosen,'' Hubbs said. "We all belong to different organizations, but I really don't know. I was just honored to be there."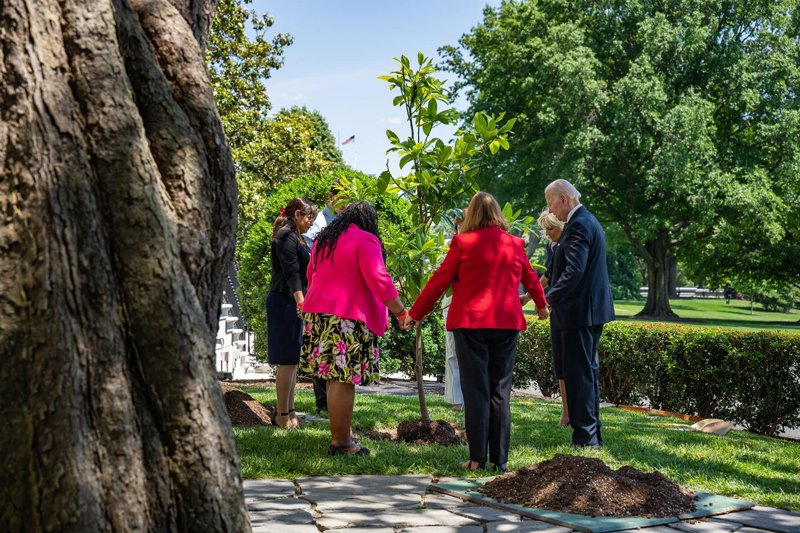 She said one poignant moment came when the First Lady asked the President to lead the group in a prayer.
The small group joined hands, President Biden holding his wife's left hand and Hubbs' right hand.
"It was the most beautiful prayer and a special moment,'' Hubbs recalled. "He prayed for peace and protection for us all, as well as for God's blessing for our troops. It was just something I'll always remember."
Before they placed the dirt around the sapling, Hubbs handed the President a 1968 penny which he placed on a shovel of soil and which was then buried with the sapling.
"I had on a business suit and fancy shoes,'' she said. "It was the fanciest I've ever been dressed up to garden."
Hubbs is the producer of the2016 PBS documentary "They Were Our Fathers,'' a documentary featuring the stories of the children of Gold Star families.
"There was always hope,'' Hubbs said of her own family's struggle to understand what happened to Cmdr. Hubbs and his crewmates. "But after a while, you kind of accept that he's gone but still want to know what happened."
She has visited Vietnam twice in hopes of finding news of her father or his remains, as well as the fate of other Vietnam veterans who were missing in action.
"I think I'll always be that little girl trying to figure out what happened to my Dad."