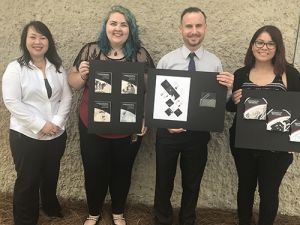 Published: 05-07-2019
The works of three Pensacola State College graphic design students were exhibited at the Pensacola Museum of Art this spring.
The designs of Sandra Morris, Josh Clark and Kayla Wood were included in "The Collateral Campaign Project" which was part of the museum's "Aesthetics of Decadence: The Prints of Aubrey Beardsley" exhibition.
The project was a collaboration between Dr. Patrick Rowe, the museum, the Education Program and Pensacola State's Graphic Design II students.
"The project serves two purposes for Dr. Rowe and the museum, it was a means to bring more student participation to the museum to serve as a learning resource," said Lindh O'Briant, a Pensacola State graphic design instructor.
"It also was used to promote the museum's Aubrey Beardsley exhibition. For the students, it was a learning opportunity to design for a real client and to gain experience working with one."
Morris's work won first place, followed by Clark in second and Wood captured third for the project.
"To correctly execute the design project, each student had to select the collateral materials that best suited their campaign strategy for the museum," O'Briant explained.
"In graphic design, collateral materials are materials used to support, enhance or reinforce a company's advertising and marketing efforts. It comes in many forms, and when designed and paired correctly, the pieces serve as a powerful method to bring more awareness to the company's special event."
The students were asked by Rowe to design their collateral materials to represent Beardsley art style. During the design process, Rowe offered photographs from his private collection of Beardsley works to the students.
To make the design process more challenging, the students also had to incorporate their design aesthetics to the pieces while still maintaining Beardsley's art style. The two designs had to work harmoniously together.
The final stage of the design project was the client presentation and judging competition. The students presented their works to Rowe and Caitlyn Cooney, the museum's curator of education, who selected three winners to showcase the design works on Pensacola Museum of Art's educational wall.