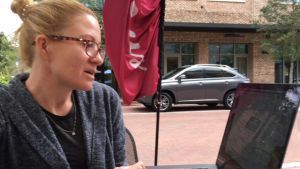 Published: 11-06-2019
By Troy Moon, Pensacola State College
Buffi Bailey sits outside a downtown cafe, sipping a caramel latte and looking over her computer screen as the sounds and scents of the city swarm around her. Bailey, a doctor of nursing at Pensacola State College, is working. But of course, this isn't a typical work day.
If it were typical, Bailey would be sipping black coffee instead of a fancy caramel latte. But on this day, she felt a bit more adventurous.
But the café? That's a typical work environment for Bailey, who leads PSC's RN to BSN program that allows working nurses to earn a bachelor degree. Or she might set up shop at a different café for a workday. Or at a local bookstore. Or her home office. Never the classroom.
See, Pensacola State's RN to BSN program is only available online, like most nursing bachelor's degree programs offered at colleges and universities nationwide.
Bailey earned her bachelor's and master's nursing degrees online from Troy University. She earned her doctorate online through Samford University.
Remember, to enter into the bachelor's program, applicants must already have already earned an associate degree in nursing and hold a registered nursing license.
"If you think about how nurses work, the majority of them work shift-work from 7 a.m. to 7 p.m.,'' Bailey said. "Or they're night shift. You don't see RN to BSN programs in a live environment, because working nurses can't attend."
While PSC offers RN and licensed practical nursing programs, the RN to BSN program is for nurses still looking to advance in their field. Bailey is the program's coordinator and one of two instructors, including Worawan White, who also teaches online.
"Our program is a mobility program for someone who is a licensed RN, but wants to get their four-year degree,'' explained Bailey from her work perch outside Bodacious Bookstore & Café on East Intendencia Street. "That will give them a more well-rounded approach to nursing leadership and the overall functioning of healthcare organizations and their community."
The online course site has all the information students need for classes, including introductions, syllabuses, assignments and instructional material. Students submit all work online, and usually have a specific time frame to complete assignments. But, as long as they meet the deadlines, the students can complete assignments whenever they want.
Bailey's goal is "to meet the students where they are in their journey, both professionally as well as their individual educational journey."
Rachel Treadway is a working nurse who is a medical supervisor at a local facility that cares for children. She knows the value of an online program that will allow her to do the work on her own schedule. She plans to graduate with her BSN degree in spring 2020.
"It really gives me a lot of flexibility,'' Treadway said. "I do actually enjoy going to class, but for a lot of us, it's just not possible. Depending on my work schedule, I might have to do my school work at 1 a.m. Life's busy, but this allows me to work full time and still get my degree." Though the course work is online, students in the program also work in practicums at local health facilities.
Bailey knows how her working nurses feel when trying to earn a BSN online, having gone through the same online nursing programs throughout her own academic career
"It was a really good experience because I was working all the time and going to school,'' Bailey recalled. "It gave me the opportunity to do both without having to sacrifice the quality of either."
Bailey said that even though she did most of her course work online, she still forged deep and meaningful relationships with her instructors, some of whom she remains in touch with. She tries to bring that same instructional dedication to her own students.
A married mother of two, Bailey said she often has to keep late hours to field questions from students. She puts the children to bed, she said, then works a few more hours to be available for students who work during the day.
"I'm more passionate about these working nurses because that's how I achieved my education,'' she said. "I was successful and I know what it's like. So I want to help them the same way my instructors helped me."
For more information on Pensacola State's RN to BSN nursing program, contact a PSC Admissions Specialist at 850-484-1600 or healthprograms@pensacolastate.edu.