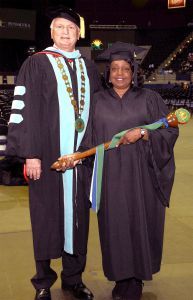 Published: 02-07-2020
By Troy Moon, Pensacola State College
Wilma Duncans-Burnett has always gone the extra mile for her students, even if that means letting them stick needles into her veins. Because Pensacola State College's phlebotomy program coordinator hates needles. Hates them.
But she'll stick out her arm – "I have prominent veins," she said – when it comes to students who need real skin and real veins to practice on.
"I always pick the most timid student to draw my blood," said Duncans-Burnett, who is coordinator for both the phlebotomy program and the electrocardiography program at PSC. "When you don't like needles, it gives you a little respect for them and helps you teach the students the right way. I teach them procedures and techniques so that they hurt patients as little as possible."
Duncans-Burnett, who began her teaching career at Pensacola State College – then Pensacola Junior College – in August 1988, will teach her final class on Feb. 29. Maybe.
"Feb. 29 is a Saturday, so if I teach CPR that day, it will be my last day," she said. "If not, Friday the 28th is my last day and I will be finished" – she stepped away from her office desk to peek at the class schedule on her door ─ "at 3 p.m."
Is she ready for retirement?
"Yes," she said with a sigh. "It's been a long time."
But during that time, Duncans-Burnett has touched the lives of hundreds of students who passed through her classrooms. Her standards were high, both students and fellow instructors said, but those standards guaranteed her students would have the best chance to compete at the next level, whether additional college or university work, or in the real-world setting.
"The class could have been hard, but she made it easy," said Payton Jacobs, a PSC Medical Assisting Vocational Certificate Program student who was in Duncan-Burnett's Basic Healthcare Worker class. "She's a great teacher, and you retain what you learn from her."
Another student, Evee Villenueve, said Duncans-Burnett's vast experience in her field helped her impart real-world knowledge to her students.
"She would always make it relative to real-life scenarios," Villenueve said. "And she would share situations we will encounter in our future careers."
Duncans-Burnett said her experience at PSC has been "a great and awesome venture."
She admitted a personal highlight came recently when she was chosen to carry the ceremonial PSC mace, which features the college seal, at the fall commencement ceremony in December.
"That was exciting," she said with an infectious smile as she recalled the event. "I was tempted to (she mimes a baton twirl), but Dr. Meadows (PSC President Ed Meadows) was behind me. It was fun and an honor to do."
She's touched many young lives as a professor in the Allied Health Department, but it wasn't her first plan when she graduated from Pensacola's Booker T. Washington High School in 1971.
No, her first dream was the high-octane world of fashion and design. After graduating from high school, she attended Bauder College in Miami, where she earned an associate degree in modeling, fashion design and interior decorating.
She worked at high-end fashion stores and modeled and designed for prestigious events, including the Miami International Boat Show.
Though Duncans-Burnett enjoyed working in the fashion world, she said she didn't quite fit in.
"I'm pretty much an introvert," she said. "I like to do what I'm supposed to do and go home. I could do the designing and the modeling. But the nightlife and the parties and all of that wasn't me. "
She took a position as a flight attendant for Delta Airlines, before enrolling at Normandale Community College to study nursing, but a "hiccup" in life brought her back to Pensacola.
In 1981, she took an on-the-job training position at Baptist Hospital, working in respiratory therapy. She would earn an associate degree from Pensacola State in respiratory therapy care in 1989 and has certificates in Proficiency of Phlebotomy Technician and Proficiency of Respiratory Therapy Technician.
Her first position at PSC came in 1988, when she became a Respiratory Care Program instructor. She was promoted to associate professor in 1994 and to professor in 2005.
Duncans-Burnett's impending retirement is being felt by her colleagues.
"I've already shed a few tears," said Allied Health instructor Sandy Moore. "We're going to miss her tremendously. She has such high standards, standards that we all try to match."
Marta Suarez-O'Connor, education director of the Patient Simulation Training Center, shares the office next to Duncans-Burnett.
"I'm going to miss having my neighbor," Suarez-O'Connor said. "She's always done whatever is best for her students, so they get the right training and education. She works very hard. I come in at 7 a.m. and Wilma is here. I leave late sometimes, and Wilma is here. Year after year it's been like that."
Julie Burger, Pharmacy Technician program director, called Duncans-Burnett "the gold standard" in the Allied Health Department.
"We have an expression – 'What would Wilma do?'," Burger said. "I use it and I know others do. She's been here so long and seen every situation. She is the 'gold standard' of what we need to be."
Any plans for her retirement?
"I'm not sure yet," Duncans-Burnett said. "I will probably work on some projects around the house and do a little bit of traveling. I don't want to travel to foreign countries or take open-water cruises. I'd like to take a cruise up the East Coast and stop at all the ports along the way. But I want to be close to land."
PHOTO: Wilma Duncans-Burnett and Pensacola State College President Ed Meadows at the 2019 Fall Commencement ceremony.
VIDEO: Wilma Duncans-Burnett is featured in this video tour of the Allied Health Department: