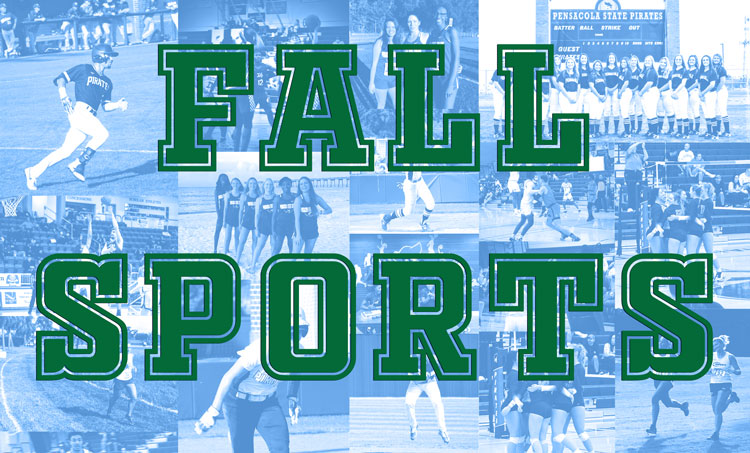 The Pensacola State College volleyball team already has a handful of wins under its belt, but it won't be the only Pirates team bringing home the victories this fall.
You'll get plenty of opportunities to support your fall teams – volleyball, softball, baseball and cross-county – throughout the year.
The PSC cross-country team began its fourth season on Friday, Sept. 2, while the Pirate baseball team kicks off its exhibition season at home with two games on Sept. 9 – at 10 a.m. against Northwest Florida State College and a 5:30 p.m. match-up against Gulf Coast State College.
The Pirates softball team, aiming to win its third consecutive Panhandle Conference Championship, starts exhibition play on Sept. 25 at the University of Alabama Birmingham. Returning to the team is Georgia Hood, who was named a Second Team All-American her freshman year as well as State Player of the Year.
"It's always great to get the teams out practicing and ready to play again,'' said Brian Lewallyn, PSC Athletic Director and head baseball coach. "I know the baseball and softball teams have been itching to get outside and practice."
The PSC baseball and softball teams are playing a preseason schedule to give Division I coaches chances to see potential recruits and get the teams ready for regular season play during the spring semester.
The Pirates volleyball team began play Aug. 19th. The team played its first home game at 1 p.m. Friday, Sept. 2, against St. Petersburg College, followed by a September 2nd, September 3rd home game against State College of Florida and a September 4th home game against Pasco-Hernando State College. All three are against conference foes.
The cross-country started training and practicing for the new season on Aug. 1. Coach Julie Burger said this year's squad boasts seven runners, including three returning student-athletes.
While most of the team's meets will be outside of Pensacola, there are two in-town meets – the UWF Argo Invitational at the University of West Florida on Sept. 23 and the PSC Lumberjack Open Oct. 8 at the PSC Milton campus.
"The team is looking good,'' Burger said. "We've got some experienced runners who aren't just runners, they're experienced cross-country runners."
If you want to support the Pirates teams, student admission to all home events is free. Admission for staff and faculty is $2. General admission is $5.
For details, including team schedules and rosters, visit https://athletics.pensacolastate.edu/landing/index.