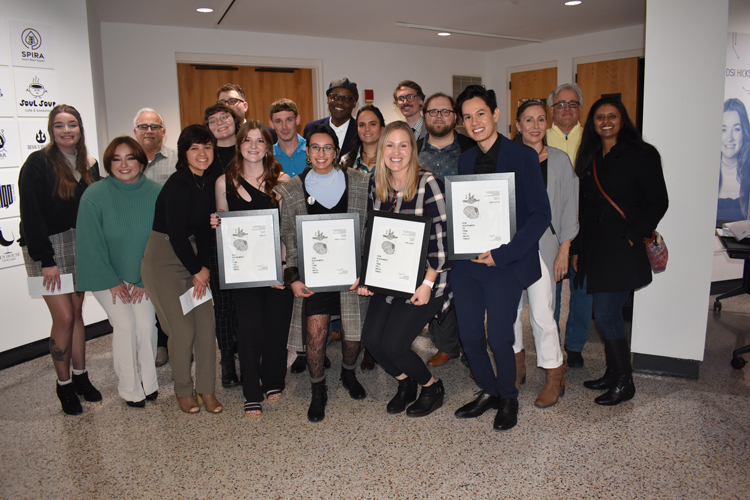 When you're creating sparkling, top-shelf advertising campaigns that dazzle eyes and hold attention, you can expect some interest from the professionals.
Pensacola State College graphic design instructor Mark Hopkins said that's exactly what happened when representatives from local advertising firms showed up for the 2022 Dr. Marjan Mazza Bachelor of Applied Science in Business and Management – Graphic Design Senior Exhibition Reception on Dec. 1 at the Anna Lamar Switzer Center for Visual Arts.
"I had a few asking about our students,'' Hopkins said. "They were taking the students' cards and really interested."
The work of 11 talented students are featured in the exhibition, which runs through Friday, Dec. 9.  Each student was tasked with creating a mock advertising campaign for a fictious product, company or nonprofit group.
Danny Nguyen won Best in Show for his environmentally-themed product that showcased a variety of graphic design techniques. Several local agencies expressed interest in his work.
"His motivation and commitment were stellar,'' said Hopkins of Nguyen. "Danny can do anything he wants to in the field now, even though he hasn't set his mind on what's next for him yet."
Nguyen said he's thinking of moving to Tennessee or Colorado to work remotely.
"I'm still not sure where I'm going. I'm still working it out," said Nguyen who credited his instructors and classmates for pushing him through the project.
"This project came out so good because of the group I was with. Without them, it wouldn't have been as good."
Other award winners were:
Jenny Manare – Best in Show Runner-Up
Danielle Carroll – Judges Award
Alana Cox – Most Creative
"I'm so ecstatic about this group,'' Hopkins said. "All 11 were on board and that's not always the case. They were all committed and came up with some really good stuff. They're going to have plenty of opportunities in the future."