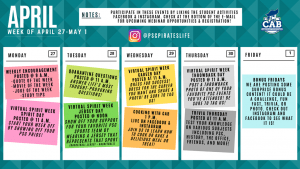 Published: 04-24-2020
Troy Moon, Pensacola State College
The COVID-19 shutdown hasn't kept some Pensacola State College students from enjoying a group horseback ride – or being spectators at a live cooking show.
Don't worry, all the students are respecting social distancing guidelines.
Sure, a cooking demonstration might be better if you could taste the finished dish. And a horseback ride might be more enjoyable if you could smell the pines and country freshness along the trail.
But still, the PSC Robinson Honors Program is doing what it can to keep students entertained, engaged and connected. Even if those field trips are virtual trips enjoyed from the couch or kitchen table.
"We're letting them share their passions,'' said Program Coordinator Amber Carey. "We have musicians, we've had someone put on a cooking demonstration. Two are horseback riders. They used a GoPro and took the rest of the club on a virtual horseback ride. It gives them a chance to have some connection with people and to share what they love with the others."
And there are more virtual opportunities for PSC students to connect.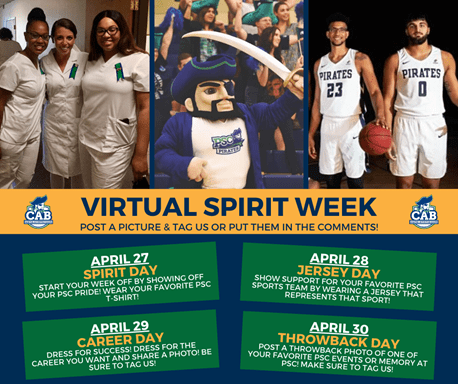 Student Activities has offered students everything from virtual trips to Tokyo, Paris, Jerusalem and Sydney to online trivia games and resume building workshops.
"We're completely transitioned to virtual social media and webinar type of events,'' said MaKenzie Johnson, PSC Student Engagement and Leadership coordinator. "We try to host something once or twice a day."
Each Friday Student Activities posts surprise challenges and content. Students can access all the activities and connection opportunities by liking the Pensacola State College Student Engagement & Leadership Facebook page or going to Instagram (@pscpirateslife). Upcoming activities include Sprit Week, where PSC students, staff and faculty are urged to send photos of them in their favorite PSC gear, and more.
"I think now more than ever, we need to provide students an outlet and give them a break from their classes and everything they're having to deal with,'' Johnson said. "Maybe it will be an outlet for them to release some of that stress. Maybe they might learn something, or just have fun and stay connected with their classmates and friends."
Other PSC clubs and organizations also are staying as active as possible during the shutdown.
The Phi Theta Kappa Honor Society chapter at PSC, is collecting items for Santa Rosa Kids' House through the summer, and is asking individuals to make hats, scarves and other items for homeless military veterans.
PTK member Andrew Kincaid said the group meets each Tuesday using Zoom technology.
"We can't get together in person,'' he said. "So, it's good to be able to get together virtually. We're all at home, we can't see anyone. So, this gives us a good opportunity to get together and get your emotions out. If someone is struggling, you can talk about it. It's just important to stay in touch."