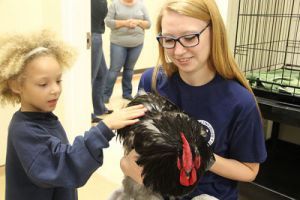 Published: 11-14-2017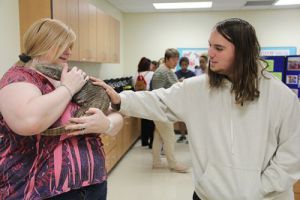 Humans and animals interacted during Pensacola State College's Veterinary Technology Program Open House held Thursday on the Warrington campus.
A rooster, chickens, a goat, a mini horse, rodents, a garden snake and even a monitor lizard were among the animals that were on hand at the annual event.
"We wanted to introduce the public to the Vet Tech program and the field, and we had quite the turnout," said Vet Tech Program Director Sarah Meyer-Paterson. "I think many of our visitors were surprised with how well they interacted with the animals. Most people have never petted a young rooster, let alone a 5-year-old monitor lizard. It was interesting seeing the reactions to the animals and the light bulb going off in some eyes.  I think some of our visitors realized becoming a Vet Tech could be a real possibility."
The two-year Vet Tech program covers a wide range of skills including animal behavior and husbandry, clinical procedures, anesthesia, lab diagnostics, medical and surgical nursing, radiology, dentistry, and office management.
"Students also complete supervised clinical rotations at approved area veterinary hospitals," Meyer-Paterson explained. "This gives students technical experience working with patients and clients, as well as seeing a hospital's daily operation and staff interaction."
The Vet Tech Open House also included financial aid information on the program which is accredited by the American Veterinary Medical Association's
Donte Sheppard, a Student Services recruiter, said many of the visitors talked with him about enrolling in the program.
"There was a mix of traditional and nontraditional students who seemed very interested in the program," he said. "They all enjoyed the tour of the Vet Tech program facilities but some of them had done their research on the program and were well-informed."