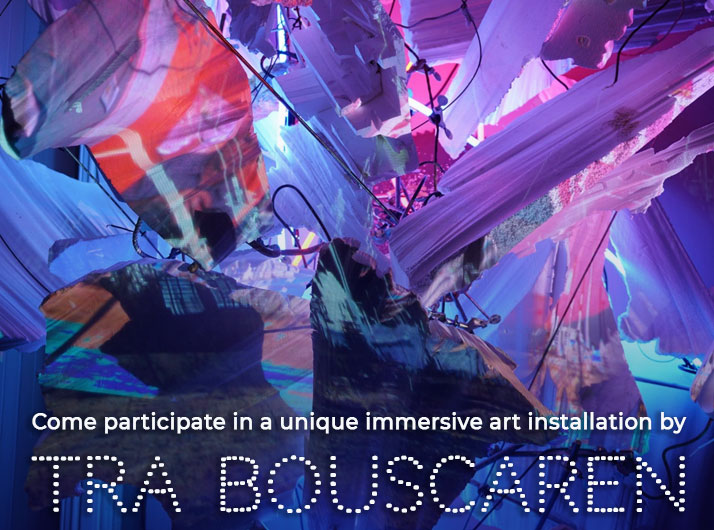 If you've recently walked by the Charles W. Lamar Studio in the Anna Lamar Switzer Center for Visual Arts, you've probably noticed the doors to the studio gallery are shuttered and lights are usually off, though every once in a while you might see a dim flicker and realize that something is going on inside.
Something hidden for now. But something that will captivate and stimulate once it is revealed on Monday, Sept. 12.
Artist Tra Bouscaren's multimedia installation project will run through Dec. 9. An Opening Reception is set for 5-7:30 p.m. Wednesday, Sept. 14. An Artist Lecture will be held at 3 p.m. in Room 1513 of the Anna Lamar Switzer Center for Visual Arts.
Bouscaren's biography notes that he is "a post-disciplinary artist focused on American spectacle at the crossroads of waste culture and surveillance state."
Currently assistant professor of Art and Digital Media Area Head at Florida State University, he has taught at the University of Arizona, the University of California at Santa Cruz, the University of Texas at El Paso, SUNY Buffalo, the University of Pennsylvania and the National Academy of Fine Arts in Helsinki.
How to describe Bouscaren's creations?
"The easiest way to explain it is that it's installation art,'' said PSC Gallery Director Jason Pinckard, who has been helping Bouscaren install the piece in the Lamar Studio for the last few weeks. "It's site-responsive installation. What that means is he creates environments within buildings and galleries."
The piece will feature various lines and shapes and use various electronics and surveillance cameras that splash visitors sometimes distorted images across various nooks and crannies of the vast three-dimensional multimedia "canvas."
Bouscaren's work has been featured in museums across the United States, as well as international galleries in Barcelona, Madrid and Berlin.
He earned a bachelor's degree in Philosophy from Yale University, a Master of Fine Arts degree from the University of Pennsylvania and is a Ph.D. candidate at SUNY Buffalo.
The exhibition is free and open to the public. Gallery hours are 8 a.m.-9 p.m. Monday through Thursday and 8 a.m.-4 p.m. Friday. Tours are available with prior arrangements.
For more information, call the Switzer Center at 850-484-2550 or visit https://visualarts.pensacolastate.edu/art-exhibitions/art-exhibition-tra-bouscaren-multimedia/.