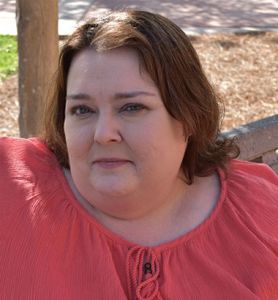 Published: 05-22-2018
Pensacola State College has gone through some changes since the first time Donna Jernigan was a student here.
"I started LPN school in 1990, two weeks after I graduated high school. The internet wasn't very widespread then. Nursing care plans were done on typewriters or hand-written," Jernigan remembered.
Since that time, Jernigan has gone through some changes, too. She's been married and divorced. She's raised her daughter, Kara, on her own for the last 17 years.
After graduating from Pensacola State with her RN certification in 1992, Jernigan began working as an oncology nurse at Baptist Hospital. She transferred to Santa Rosa Medical Center four years later and worked as an operating room nurse before moving into an administrative position as an OR resources coordinator. She decided to pursue her bachelor's degree in business and began taking classes at Pensacola State again in November 2015.
In May 2016, Jernigan said she walked into work one day and fell ill, so she went to the emergency room. When she left, she was in a wheelchair.
"I just couldn't take another step," she said.
Jernigan has rheumatoid arthritis, an inflammatory disease that causes the immune system to mistakenly attack healthy joints. Symptoms can include pain, swelling, stiffness and loss of physical function. While it is not curable, chemotherapy and immunosuppressive treatments often help, but the side effects can be debilitating.
Still, Jernigan was determined to continue her studies.
"I knew that I was going to have to change up a little bit. I just didn't think it was going to be that fast," she said. Complications from her treatments caused her to need regular blood transfusions and forced her to go to wound care three times a week.
"I am such a stickler for doing things on time and I was mortified," Jernigan confessed. Through all of the ups and downs, there was only one time when she turned in an assignment late. She was in the hospital and only missed the deadline by two hours.
"I sent the paper and I attached a picture and you could see the blood hanging. It was obvious," she said.
Jernigan not only turned her work in on time, but she also maintained a 4.0 grade point average. On April 23, she was inducted into Sigma Beta Delta honor society, and was on the President's List for Baccalaureate programs for 2017 and 2018.
Jernigan says her daughter, Kara, is the one who inspired her to pursue a bachelor's degree in the first place. Kara Jernigan's name was listed below her mother's name on the President's List and she was also inducted into Sigma Beta Delta in the same ceremony as Jernigan. Kara Jernigan accomplished her goals while working and taking care of her mother, who added, "If it wasn't for her, I would surely be in some type of facility."
Jernigan said she tried to carry a full course load to keep up with her daughter, who also was a business management major, but said her illness caused her to drop down to nine credit hours for two terms.
Kara Jernigan graduated on May 6, but her mother still has two classes left.
"Had I not gotten sick, we would have graduated together," lamented Jernigan, who will now graduate this fall.
Despite overcoming adversity and struggles, Jernigan does not see herself as a role model. She said she just doesn't like to fail, so there was not ever any question that she would keep going once she got here.
"The hardest part is taking the first step. Struggling with the decision, the self-doubt, the worry … before I took that first step, I went online 50 times and re-read all of the admissions information, so I knew exactly what I had to do," she added.
Jernigan has not worked since leaving Santa Rosa Medical Center, but believes having a bachelor's degree will help her find a job that she is able to do despite her physical limitations.
"I am interested in staying in the medical field, maybe managing a small practice, but I also love to teach," Jernigan said.
As for returning to a college lifestyle that has significantly changed over the last three decades, Jernigan said everywhere she goes on campus, people are friendly and helpful. She says she doesn't feel like she has to be a computer guru to navigate the student apps or other online components. And she is very pleased her instructors recognize that their students have families, jobs and lives outside of the classroom.
Jernigan credits the support of her family with helping her to persevere through the hard times and said the decision to come to Pensacola State was the right choice.
"Suck it up, take that leap of faith and just do it," she added.