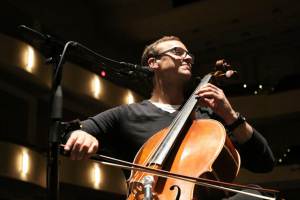 Published: 08-03-2017
PENSACOLA, Fla. – Innovative cellist and singer-songwriter Ben Sollee kicks off the 59th annual Lyceum Series at Pensacola State College with an unconventional twist at 7:30 p.m. Saturday, Aug. 26, at the Ashmore Auditorium, Building 8, on the Pensacola campus, 1000 College Blvd.
A classically trained musician with a deep technical command, Sollee has earned accolades for incorporating elements of folk, bluegrass and R&B into his singular musical style.
The Kentucky native has been described as a relentlessly curious musical soul for whom change constantly comes. His genre-bending talent ranges from composing and performing music for ballets, films and stage to concerts at Carnegie Hall and tours throughout the United States and Europe. He even cycled 5,000 miles by bike, towing his cello "Kay" behind him as part of the "Ditch the Van" tours.
Following a performance at the Lincoln Center's American Songbook series, the New York Times remarked how Sollee's "…meticulous, fluent arrangements continually morphed from one thing to another. Appalachian mountain music gave way to the blues, and one song was appended with a fragment from a Bach cello suite, beautifully played."
Tickets are $11, general admission; $9, seniors, non-PSC students and children; $7, PSC Alumni Association, PSC Seniors Club, PSC faculty and staff; and free for PSC students with ID.
Purchase tickets online at www.pensacolastate.edu/lyceum or at the Lyceum Box Office, Building 8, Room 861, from 8:30 a.m. to 4 p.m. Monday – Friday. Tickets also are available at the door one hour before a performance.
For reservations or more information, call the Lyceum Box Office at 850-484-1847.