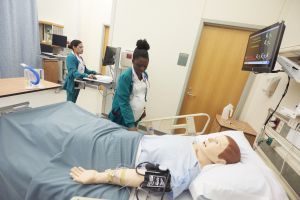 Published: 01-26-2021
For the third consecutive year, Pensacola State College's online RN-to-BSN (Bachelor of Science in Nursing) Program has been listed among the best in Florida and the nation by U.S. News and World Report.
In the "Best Online Bachelor's Programs 2021 Edition," Pensacola State's RN-to-BSN Program was ranked second among Florida College System (FCS) institutions. Also, the College tied for 8th among all Florida colleges and universities and was ranked 53rd in the U.S. by the publication.
"Each year, we keep moving up in the rankings, and that speaks volumes about our online RN-to-BSN Program," said Pensacola State President Ed Meadows. "We've moved up one spot among the FCS schools and up 20 spots nationally – that is outstanding."
He cited Pensacola State accepting applicants year-round, transfer students and affordable tuition as some of the rankings' factors. The College also offers diverse online learning technologies, career guidance, strong support structures and learning assistance to students.
U.S. News has consistently recognized Pensacola State's RN-to-BSN Program. In 2020, the program was ranked ninth in Florida and 73rd in the nation by the publication. Pensacola State scored 77 points out of a possible 100. In 2019, the program was ranked 10th in Florida and 114th in the nation – with Pensacola State scoring 73 out of a possible 100 points.
"This year, we scored 80 points and are moving in the right direction," Meadows noted. "As always, I am extremely pleased with our rankings because we are evaluated against traditional universities and other colleges nationwide."
To calculate the rankings, U.S. News and World Report assessed schools based on four categories: engagement (35 percent), services and technologies (25 percent), faculty credentials and training (20 percent), and expert opinion (20 percent).
Buffi Bailey, RN-to-BSN Program faculty member, attributed the program's continuing success to the working students who still enrolled in College courses – despite dealing with a global pandemic.
"It is difficult for me to put into words the enormous amount of pride I feel about our students. As I said last year, I'm extremely proud of our hardworking students that not only work full-time jobs but find the motivation and energy to advance their academics and ultimately advance the care provided to their communities," she said.
"This has been a challenging year as our working RNs also have been on the frontlines of the pandemic. I'm proud of a college system that recognizes their sacrifices and faculty members who have gone above and beyond to make the students continued academic journey possible.
"COVID-19 has impacted all of our students, but these RNs have a much different story to tell. Not only did we apply teamwork to make them successful, but the students themselves proved to be resilient to all of the challenges. We not only maintained our work ranking but climbed up the ranking in the middle of a pandemic. I am so very proud and thankful."
Launched in 2011, the College's RN-to-BSN Program accommodates students who already work in the health care field. And since it began, it has received several accolades.
In its 2019 Best Online RN to BSN Programs rankings, Pensacola State was listed at No. 4 in Florida by RegisteredNursing.org, a nursing advocacy organization. In 2015, the RN-to-BSN Program was ranked third in the U.S. by Affordable Colleges Online for offering academic rigor, student support and affordability for online learning.
The RN-to-BSN Program also was the first in the region to earn accreditations from the Accreditation Commission for Education in Nursing and the Commission on Collegiate Nursing Education. The commissions are two of only three national accrediting bodies recognized by the U.S. Department of Education.
U.S. News and World Report also ranked the College 37th in the 2021 Best Online Bachelor's Program for Veterans category.
Rob Gregg, director of PSC's Veterans Upward Bound, said he was proud of the ranking – noting the College also has received numerous Military Friendly School designations.
"We are so excited for this current accolade from U.S. News. It demonstrates the College's commitment to veterans and current military service members and their families," said Gregg, who also is president of National Association of Veterans Upward Bound.
"The standards set forth by 'military friendly organizations and supporters' provide positive reinforcement of PSC's investment in programs that improve the quality of life of our military population. And Pensacola State's adherence to promoting and strengthening the collegiate experience that support active duty military and veterans are good for service members."
The College's participation in the Yellow Ribbon Program also was key to ranking. Under the program, Pensacola State, in partnership with the U.S. Department of Veterans Affairs, provides matching funds to cover all or a portion of the outstanding amount of established charges not covered under the Post-9/11 GI Bill.
Other factors in the ranking include institutions must:
● Be among the top half of schools in U.S. News and World Report's 2021 Best Online Programs rankings.
● Offer internet-based distance education programs and coursework and performed well enough on many factors – including program reputation, faculty credentials, retention rates and graduate debt loads.
● Be certified for the GI Bill, and either participate in the Yellow Ribbon Program or be a public institution that charges in-state tuition that is fully covered by the GI Bill for all veterans.
● Have enrolled a critical mass of students with military backgrounds.
Published annually, the U.S. News and World Report listing ranks more than 1,400 private and public colleges and universities and helps parents and students select schools.
The complete "Best Colleges 2021 Edition" report was released Tuesday, Jan. 26, and is available at www.usnews.com/bestcolleges. For more information, contact Sheila Nichols, the College's executive director of marketing, at 850-484-1428 or snichols@pensacolastate.edu.
TOP PHOTO: Pensacola State nursing students check the vitals on Harvey, a simulator, on the Warrington campus. For the third year, PSC's online Bachelor of Science in Nursing Program has been listed among the best in Florida and the nation by U.S. News and World Report. In the "Best Online Bachelor's Programs 2021 Edition" listing, Pensacola State's online BSN program was ranked second among Florida College System institutions. The College also tied for 8th among all Florida colleges and universities and was ranked 53rd in the United States by the publication.
Pensacola State College photos