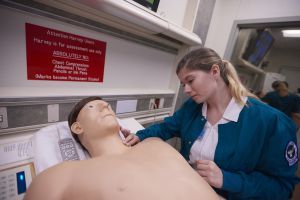 Published: 01-14-2020
By Troy Moon, Pensacola State College
U.S. News and World Report once again has named Pensacola State College's online Bachelor of Science in Nursing (BSN) Program as one of the state's – and nation's – best online programs for 2020.
PSC's online BSN program is ranked third among Florida College System institutions and tied for ninth in the state among all Florida colleges and universities. PSC's online BSN program was ranked 73rd in the nation.
It's a great accomplishment – and an improvement over PSC's 2019 rankings. But the accolade only tells part of the story.
Because maybe a greater accomplishment is the success the program's graduates have found in the nursing field after leaving PSC. Many have gone on to earn master and doctorate degrees in nursing at other institutions, while many more have become nurse practitioners who are guiding and providing health care to families and individuals across the region and nation.
"They're becoming the foundation of the (health care) community," said Buffi Bailey, the college's BSN program coordinator. "There aren't enough primary physicians and nurse practitioners are making up for that shortage."
Jolee Sanborn, a 2016 BSN program graduate, entered nursing school at the University of South Alabama (USA) after leaving Pensacola State. She earned her master's degree in pediatric nursing in December and just received her nurse practitioner license this month. She is currently a registered nurse at the Studer Family Children's Hospital at Ascension Sacred Heart, though she will soon move into a nurse practitioner position at the hospital.
"I knew that was my end goal when I started at PSC," said Sanborn, a Milton resident. "PSC was a nice bridge for me, and the program really prepared me to succeed. A lot of the writing and research we did really carried over. "
When Sanborn first started at USA, she was a little apprehensive about whether she was prepared.
"I found out that I was more ready than I thought I would be," Sanborn said. "What I learned in the BSN program helped me to earn my master's degree. Everything we were taught was very useful."
And, there was another bonus to PSC's program:
"It was a great financial move for me," she said, noting the affordability of classes and the fact that PSC students graduate with less student debt than any other school in the nation, according to U.S. News & World Report. "At another school, the same program would be so much more expensive."
Using data gathered from the U.S. Department of Education, U.S. News and World Report reported that 2019 Pensacola State graduates incurred no student loan debts. Yet graduates are moving into a field offering competitive salaries.
"The Florida College System, along with Florida Education and Training Placement Information Program, determined that Median Annual/Annualized Earnings of Pensacola State College BSN graduates employed full-time within the fourth quarter after graduation is $72,868," said Michael Johnston, executive director of Institutional Research at the college.
Johnston also reported that 72 percent of the college's BSN program students are fully-employed within the fourth quarter after graduation.
"They're coming out with such minimal debt and they're making pretty good money," Johnston said. "They have the knowledge base to be effective as practicing nurses and I think that shows the program is very effective."
The U.S. News and World Report ranking is testament to that effectiveness – and the growing stature of the college's BSN program, which is only offered online.
"I was so excited that we ranked in 2019, but I am even more pleased that we improved over last year," said Pensacola State President Ed Meadows. "I am very pleased that we ranked where we did, considering we are evaluated against traditional universities and other Florida colleges."
In 2019's "Best Online Bachelor's Programs" edition, Pensacola State's BSN program was ranked 10th in Florida and 114th in the nation.
"Our online BSN program is so successful because we understand our purpose and that is meeting the student where they are ─ both on their professional and academic journey," Bailey said.
"Almost all of my students are full-time working nurses, so the convenience of an online platform meets their needs."
She also acknowledges the caliber of students enrolled in the BSN program.
"The types of student that enroll in our online BSN program are working nursing and most of that student-population reports that they work full-time. For the bedside nurse this means going to college and working three to four 12-hour shifts per week with added time on each side for reports. We have students who work 8 a.m. to 5 p.m. and complete their school work at night."
U.S. News & World Report based the ratings on four general categories:
Engagement: Factors include exam policies, anti-plagiarism policy, adherence to the Americans with Disabilities police, speed at which instructors are expected to student questions, class size and graduation rates as well as retention rates.
Student Services and Technologies: Factors includes student indebtedness and technological infrastructure and support services.
Faculty Credentials and Training: Criteria includes faculty members with advanced degrees, ability to teach distance learners, faculty with more than one bachelor's degree and tenured faculty.
Expert Opinion: Ratings from top college administrators and academics in online bachelor's degree programs.
The college's BSN program performed strongest in the Services and Technologies ranking second in the nation among all colleges and universities.
"We offer 24/7 support for any of our students, which is not very common, because, first of all, it's very expensive," Johnston said. "We don't outsource any of our courses for creation. Some schools will actually pay companies to create online courses for them, and then the instructors just teach from those courses. Our instructors and faculty develop everything. So they know it, they understand it, they love it, they can change it."
Launched in 2011, the college's BSN program was designed to accommodate students who already work in the health care field. And since its inception, the program has garnered several other accolades.
In its 2019 Best Online RN to BSN Programs rankings, Pensacola State was listed at No. 4 in the state by RegisteredNursing.org, a nursing advocacy organization. In 2015, the BSN program also was ranked third in the nation by Affordable Colleges Online for offering academic rigor, student support and affordability for online learning.
The Pensacola State BSN program also was the first in the region to earn accreditation from the Accreditation Commission for Education in Nursing and the Commission on Collegiate Nursing Education. The commissions are two of only three national accrediting bodies recognized by the U.S. Department of Education.
"What we offer is a stepping stone," Bailey said. "We make sure they're prepared for that next step, and so many have become successful."