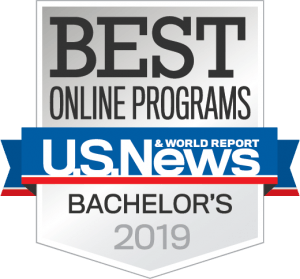 Published: 03-14-2019
Pensacola State College's online Bachelor of Science in Nursing (BSN) program has been ranked among the best in the state and country by U.S. News and World Report.
In the "Best Online Bachelor's Programs 2019 Edition" listing, Pensacola State ranked 10th in Florida and 114th nationwide for the online BSN program.
To calculate the rankings, U.S. News and World Report assessed schools based on four general categories: engagement (35 percent), services and technologies (25 percent), faculty credentials (20 percent), and training and expert opinion (20 percent). Pensacola State received 73 points out of a possible 100.
"I am very pleased that we ranked where we did considering we were evaluated against traditional universities and other Florida colleges," said Pensacola State President Ed Meadows.
The College submitted data on online courses participation, the ability of students to interact with instructors and other students, technological support, and faculty and academic credentials to U.S. News and World Report.
"A survey also was sent to high-ranking academic administrators for their feedback," Meadows explained. "Some of the data elements used for rankings were exam (in-class) policies, ADA friendliness, graduation rates, class sizes, retention rates, student indebtedness, smartphone accessibility, 24/7 tech support, and terminal degree faculty."
U.S. News and World Report collected data from August to October and identified 367 schools – 21 percent of all schools surveyed – that have online bachelor's degree programs as defined by the U.S. Department of Education.
Natasha Suggs, a 2018 PSC graduate and Baptist Hospital in Jay nurse, said the college's online BSN program will allow her to earn a baccalaureate degree without leaving home.
"Online classes are just more flexible and convenient," said Suggs, who lives in Century. "I don't have to make an hour-long commute to the Warrington campus several times a week, but I can still receive a quality education and be at Warrington without actually being on campus."
Suggs who earned her Associate Degree in Nursing works nights, and added without time restraints she can be a better student and more focused on the coursework.
"It has long been my dream to work in health care as a nurse and Pensacola State has made it possible. I first earned my phlebotomy certificate from the College in 2016, and then my associate degree in May," she said. "My goal is to earn my BSN and with it being a totally online degree program, it will be so convenient."
Launched in January 2011, the College's BSN program was designed to benefit students like Suggs who already work in the health care field, Meadows noted.
In October 2015, the BSN program was ranked third in the nation by Affordable Colleges Online for offering academic rigor, student support and affordability for online learning.
The BSN program also was the first in the region to earn accreditation from two national agencies ─ the Accreditation Commission for Education in Nursing (ACEN) and the Commission on Collegiate Nursing Education (CCNE).
ACEN and CCNE are two of only three national accrediting bodies in the country recognized by the U.S. Department of Education.
This is the second year, U.S. News and World Report has ranked Pensacola State among America's best colleges and universities.
In the "Best Colleges 2018 Edition" report, Pensacola State tied for 4th in Top Public Schools ─ Regional Colleges ─ South and was the highest-ranked college in Florida. PSC also ranked No. 28 in overall Best Regional Colleges South.
Among national colleges and universities, Pensacola State ranked No. 11 in Best Schools for Veterans and No. 147 in Best Undergraduate Engineering Programs (no doctorate).
Published annually, the U.S. News and World Report listing ranks more than 1,400 private and public colleges and universities and is a guide to help parents and students select schools.
Meadows added the 2019 "Best Online Bachelor's Programs" ranking is a testament to the high-quality instruction and services students received at Pensacola State.
"It is our mission to ensure that we are providing the best education for our students so that they are prepared for a university or the workforce," he said.
The complete "Best Colleges 2019 Edition" report was released today, Jan. 15, and is available at www.usnews.com/best-colleges.