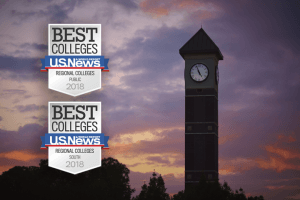 Published: 09-13-2017
Pensacola State has been ranked as one of the best colleges ─ regionally and nationally ─ by U.S. News and World Report. Published annually, the report ranks more than 1,400 private and public colleges and universities and is a guide to help parents and students select schools.
In the "Best Colleges 2018 Edition" report, Pensacola State tied for 4th in Top Public Schools ─ Regional Colleges ─ South and is the highest ranked college in Florida. PSC also ranked No. 28 in overall Best Regional Colleges South.
Among national colleges and universities, Pensacola State ranked No. 11 in Best Schools for Veterans and No. 147 in Best Undergraduate Engineering Programs (no doctorate).
To calculate the rankings, U.S. News gathered data from each college on up to 15 indicators of academic excellence. Institutions also were ranked based on graduation and retention rates, student-to-faculty ratio, undergraduate academic reputation, faculty resources, student selectivity, financial resources, graduation rate performance and alumni giving.
For the national ranking in Best Schools for Veterans, colleges and universities reported their enrollment of and benefits for veterans and active-duty service members as part of U.S. News' annual statistical survey of undergraduate schools during spring and summer 2017. To be ranked, institutions must:
Be certified for the GI Bill.
Participate in the Yellow Ribbon Program or be a public school that charges in-state tuition to all out-of-state veterans.
Have enrolled a minimum of 20 veterans and active service members, or a critical mass, in the 2016-17 academic year. Previously to be eligible for this list, a school needed 20 or more students who used GI Bill benefits.
Be in the top half of its U.S. News ranking category. U.S. News ranked qualifying schools numerically and in descending order based on their 2018 Best Colleges ranks.
The national Best Undergraduate Engineering Program rankings were based on peer assessment surveys. To appear on an engineering survey, an institution must have an Accreditation Board for Engineering and Technology undergraduate engineering program. The ABET is a non-governmental entity that accredits post-secondary education programs in "applied science, computing, engineering, and engineering technology."
Pensacola State President Ed Meadows said the rankings are a testament to the excellent education and other services that students receive at the college.
"At Pensacola State, it is our mission to ensure we are providing the best education for our students so that they are prepared for a university or the workforce," Meadows said.
"Each and every one of our administrators, faculty and staff contribute every day to the success of our students. I want to sincerely thank our employees for their hard work in ensuring our students reach their goals."
He added Pensacola State has some of the best students in the country.
"More of our students scored in the top 2 percentile on their ACT and SAT components than in previous years. This means many of our first-time-in-college freshmen earned in the 30s on their ACT composite or between 700 and 800 on their SAT critical reading and writing components," Meadows explained.
Statistics gathered by Pensacola State reveal that 17 percent of the first-time-in-college freshman who took the ACT scored above a 24 on their composite.
The complete "Best Colleges 2018 Edition" report was released Tuesday, Sept. 12, and is available at www.usnews.com/best-colleges.