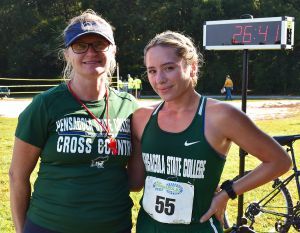 Published: 11-17-2021
Troy Moon, Pensacola State College
Maria Tibbetts is a U.S. Marine Corps sergeant, a heavy equipment operator, a wife and a Pensacola State College student-athlete.
She is also a top community college/junior college cross-country runner, and earned a spot in the 2021 National Junior College Athletic Association Division II Cross-Country National Championship that took place Nov. 13 in Richmond, Virginia. She qualified for the national championship run based on her time – 22.36 – at the Region 8 cross-country tournament in October.  At the National Championship, she finished 108th out of 197 competitors.
"She's been amazing,'' said PSC Cross Country Coach Julie Burger. "She didn't start out as our fastest runner, but she was shaving time every race. She's just such a hard worker and a great teammate."
"It's crazy,'' said Tibbetts, who spent four years active duty in the Marine Corps before transitioning into the Marine Corps Reserves. "I had no expectations of being a 'good runner.' But coach and the team really pushed me and supported me."
Tibbetts, 23, is currently taking prerequisite courses for the PSC Nursing program. She hopes to begin the RN Nursing program after one more semester of prerequisite classes.
Burger said Tibbetts, who operates heavy machinery in the Marine Corps, is conscientious about meeting all her varied obligations, sometimes traveling from her Marine Corps Reserves unit in Savannah, Georgia, straight to meets across Florida.
And like many Marines, she often goes beyond what is asked of her.
The day before the PSC XC Lumberjack Open Run at the course on the Milton campus, Tibbetts, Burger and Richard Whatley, who assists the team, spent much of the day cleaning and clearing the course.
Tibbetts finished first in the Lumberjack run.
"I'm definitely enjoying PSC and my time here, especially with the team,'' Tibbetts said. "If I need help, counselors here are always willing to assist you. And we have a great coach who is really supportive."
Tibbetts is married to Ethan Tibbetts, an active duty Marine.
She said she and her husband like to "stay active" and enjoy boating. She also admits to being a fan of true crime podcasts.
"She's super shy,'' Burger said. "But she's just so dedicated."