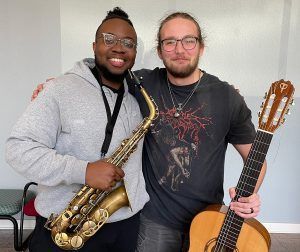 Published: 03-25-2022
Troy Moon, Pensacola State College
Two of the top four spots in the 12th annual Student Jazz Competition's Collegiate Instrumental category were claimed by Pensacola State College music students.
Alto saxophone player Pierre Baldwin finished in second place and won $300. Guitarist Rory Swanson placed third and won $150.
The competition, hosted by Jazz Pensacola, took place March 21 at Seville Quarter.
Baldwin is a first-year PSC student who has been playing saxophone since sixth grade.
"I heard jazz music when I was young and it just clicked," he said, adding that he loves old school jazz artists, including favorites like Cannonball Adderly and early Miles Davis. "I want to cover the world in old school jazz music."
Swanson had been playing bass for more than a decade when he had what he calls "an epiphany."
"I was playing chords and stuff on bass and thought 'Why not just play guitar?'"
He said he picked up bass years ago because his father had a bass.
"I started playing bass because it was there," he said. "But I'm more of a guitarist at heart."
Both Baldwin and Swanson are members of the PSC Jazz Band.
First place in the college instrumental division, winning $500, was Gamaliel Harris, a trombonist from Northwest Florida State College. Fourth place, winning $150, was Patrick Bass, a University of West Florida saxophonist.
PHOTO: Pierre Baldwin, left, and Rory Swanson