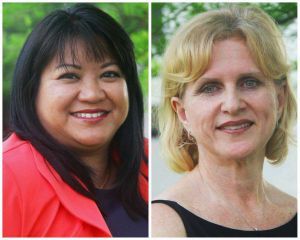 Published: 04-19-2017
Giving local school children the opportunity for better dental hygiene and health care is the goal of two new recipients of endowed chairs at Pensacola State College.
Announced at Pensacola State's District Board of Trustees meeting April 18, PSC dental hygiene professor Barbara Tarwater has been selected for the Mary Ekdahl Smart Endowed Teaching Chair for Health Sciences and PSC dental hygiene associate professor Donna Mathias has been selected for the Margaret Moore Nickelsen Endowed Teaching Chair for Health Sciences.
During their three-year chair appointments, Tarwater and Mathias plan to work collaboratively to offer an ongoing school-based program of dental hygiene and nursing services to children who may not otherwise have access to care.
Tarwater and Mathias expressed appreciation for the families of Mary Ekdahl Smart and Margaret Moore Nickelsen who made the endowments possible and both are committed to making their project a fitting tribute to the women for whom the chairs are named.
"This is an exciting opportunity to work with my colleagues and PSC students in making a difference in the lives of local underserved children," Tarwater said.
Mathias, who also is working on a degree in nursing, added that she is looking forward to promoting public health and at the same time providing a service learning project for PSC students.
Involving students in their endowed chair project is especially appropriate for Mathias and Tarwater since both recipients were nominated by their students for this honor.
PSC Warrington campus dean Dusti Sluder echoed that the awarding of endowed teaching chairs has a ripple effect that benefits programs and students as well as the faculty recipients.
"The endowed chairs will not only enrich the healthcare programs by offering learning experiences in a real world setting, but they will also provide a positive impact on an underserved population," Sluder said.
PSC President Edward Meadows said that the establishment of endowed teaching chairs affirms the partnership between the college and the community.
"We are indebted to our community leaders Eric Nickelsen and the late Bill Smart for their vision and confidence in Pensacola State's health care programs that led them to establish these endowed teaching chairs several years ago," President Meadows said.
"We are particularly thankful that they chose Pensacola State as the place to honor their wives through these endowments."
In 1998, Eric Nickelsen established Pensacola State's first endowed chair, in memory of his late wife Margaret who had lost a long and courageous battle with cancer.
At the time of the endowment, Nickelsen said, "Margaret believed very strongly in higher education, and this is the perfect opportunity to honor her while helping sustain the future of health education in Northwest Florida."
In 2003, Bill Smart established the Mary Ekdahl Smart Endowed Chair as a surprise for his wife who had given up her career to stay home with their seven children.
At the ceremony unveiling the chair, Smart said, "I believe a lot of people think being a mother is rather routine. But mothers deserve recognition which in many instances they don't get. That's the reason I have given this in Mary's name. I just have to emphasize how blessed I've been."