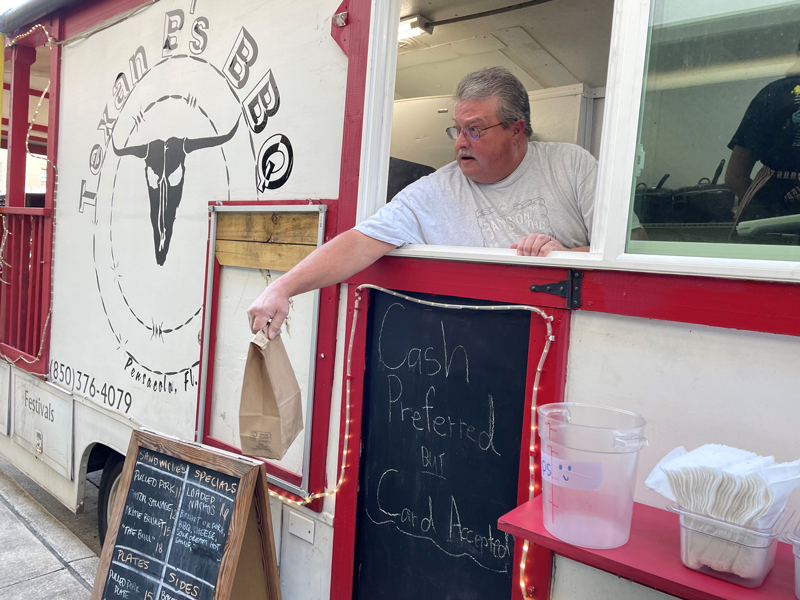 Bill Davis' brisket is so good he doesn't fancy it up with much.
"Just salt and pepper" and then cook low and slow for about 13 hours.
Not everything that Davis serves in his Texan B's BBQ food truck is so simple and minimalistic. His pork has a more involved rub.
His barbecue sauce? It's a scrumptious blueberry chipotle sauce that he developed while a Pensacola State College Culinary Arts Program student about three years ago.
"When he was developing his sauce, he'd keep bringing it back to us to get our opinion,'' said PSC Culinary Program Director Chef Jimmie Langham. "He wanted to get our opinion and was really determined to get it right."
How did Davis do? Not just with his sauce, but with his whole output?
"I think it's excellent,'' Langham said. "I think it's the best barbecue in town."
Davis lived outside of Houston for more than 40 years before moving to Northwest Florida after Hurricane Katrina in 2005. He spent most of his adult life as a plumber, though he did have restaurant experience in his early 20s.
For about 20 years, Davis was a member of a competitive barbecue team that would travel the country competing for monetary prizes and trophies.
But despite his knowledge, he credits PSC with helping him refine his skills.
"I learned a lot of technique,'' said Davis, who has two different Texan B's BBQ food trucks, including his main truck – a 32-foot RV he gutted and installed a kitchen inside.
"There's a lot of different techniques that we learn from all around the world that I use all the time. I learned a lot and it really helped me. The instructors are just fantastic."
Davis runs the business with the help of his stepson, Gabriel Mason, and a team of eight employees.
Texan B's BBQ can be found in various Escambia and Santa Rosa counties locations. We recently caught up with one of the trucks outside Ascension Sacred Heart Children's Hospital where employees and others were steadily marching toward.
Check out Texan B's BBQ Facebook page at https://www.facebook.com/TexanBsBBQ/ for location updates and more information.
And while everything is delicious at Texan B's, Davis suggests the brisket. He is after all, Texan, and brisket is king in the Lone Star State.
"I'm from Texas so our primary function is brisket even though we sell mostly pulled pork in this area,'' he said. "That's what's most popular here. When we get out to Milton and East Milton, they don't even eat brisket."