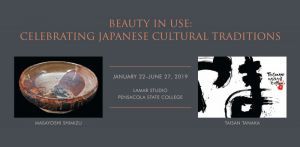 Published: 01-28-2019
The "Beauty in Use: Celebrating Japanese Cultural Traditions" exhibition will be on display now  through June 27 in Pensacola State College's Anna Lamar Switzer Center for Visual Arts.
The exhibit will feature the works of two artists from Japan's Wakayama Prefecture ─ Master Potter Masayoshi Shimizi's traditional handmade pottery and Taisan Tanaka's contemporary calligraphy.
An opening reception is set for 6-8 p.m. Thursday, Jan. 31, in the Lamar Studio Switzer Center's Charles W. Lamar Studio. Located in Building 15 at the corner of Ninth Avenue and Airport Boulevard, the reception will include live calligraphy demonstrations and the Artist Talks that begin at 6:30 p.m.
Admission is free and open to the public. Gallery are 8 a.m.-9 p.m. Monday through Thursday and 8 a.m.-4 p.m. on Friday. Tours are available with prior arrangements.
For more information, contact the Switzer Gallery at 850-484-2563.