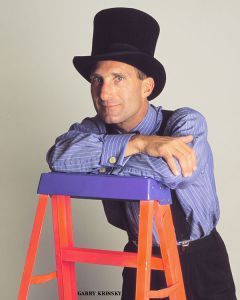 Published: 01-17-2020
Garry Krinsky will bring Toying with Science, a fast-paced, fun-filled and interactive learning experience, to Pensacola State College on Saturday, Jan. 25.
Set for 1 p.m. in Ashmore Auditorium, Krinsky will share the scientific principles of gravity, leverage, fulcrums and simple machines with audience members using circus skills, mime and original music. During the high-energy show, Krinsky and audience members jointly investigate basic scientific information and delve into the imaginations of scientists who explore the world.
The auditorium is Building 8, on the Pensacola campus at 1000 College Blvd.
An original member of the Boston Buffoons, cofounder of the Patchwork Players and a member of The Wright Brothers, a New England vaudeville troupe, Krinsky has brought Toying with Science to thousands during performances at festivals, schools and theaters.
Tickets are $11, adults; $9, seniors, non-PSC students and children; $7, PSC Seniors Club members, PSC faculty and staff; and free for PSC students with current ID. To purchase tickets, go to www.pensacolastate.edu/mt.