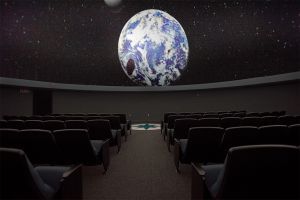 Published: 12-03-2019
Tickets are selling quickly for the Pensacola State College Planetarium and Space Theater holiday shows.
Along with all-time favorite – Pink Floyd's "Dark Side of the Moon," this year's holiday movies include "Let It Snow," and "Season of Light" which are showing on select dates and times through Friday, Dec. 13.
A "Season of Light" show is set for Tuesday, Dec. 17, but it is already sold out.
Tickets range in price from $4 to $6, and group scheduling is available. Shows are free for Pensacola State students, faculty and staff with current College ID.
The Planetarium seats 97, and moviegoers this year will be treated to an updated facility with reconfigured new seating, computerized LED lighting, a state-of-the-art surround sound system, carpeting and computerized control console.
"It's pretty much a new planetarium ─ from the very top to the walls and flooring," said Billy Jackson, the College's planetarium specialist. "The renovations started in 2017 and we finished everything this past summer."
The most obvious updates to the facility will be the color scheme change to dark blue and gray from the 1990s mauve theme. Also, when viewers look up, they will notice the repainted 40-foot diameter dome, he added.
Housed in the Baroco Center for Advanced Technology, Building 21, on the Pensacola campus, the planetarium opened in 1993.
Movies and show times are:
Monday, Dec. 9, "Let it Snow," 2 p.m.
Wednesday, Dec. 11, "Let it Snow," 11:30 a.m.
Wednesday, Dec. 11, "Season of Light," 2 p.m.
Thursday, Dec. 12, "Let it Snow, Noon
Friday, Dec. 13, "Season of Light," 11:30 a.m.
Tickets can be purchased at the Ashmore Auditorium (Building 8) Ticket Office or by calling 850-484-1847. For more information about the shows or tickets, visit www.pensacolastate.edu/community/planetarium/.