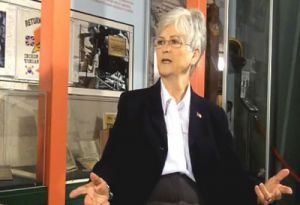 Published: 10-31-2017
Three local authors share their Vietnam War experiences at Pensacola State College's Book Talk at 2 p.m. Wednesday, Nov. 8, at the Edward M. Chadbourne Library, Building 20, on the Pensacola campus.
The public is welcome to "Same War, Different Duty" a free, informal discussion followed by a question-and-answer session.
Retired Marine Col. Richard Upchurch, Scott Harrington and Sandra Lockney Davis discuss the differences and commonalities of their service, providing a fascinating mosaic of America's war in Southeast Asia.
In a career spanning more than 30 years in the U.S. Marines, Upchurch flew 225 combat missions over Vietnam and was awarded the Distinguished Flying Cross. He is the author of "Taming the Taildragger," a fictionalized aviation adventure set in the Far East.
Harrington, a veteran Air Force officer, served as senior director/weapons controller of a radar unit based in Nakhon Phanom, Thailand, called "Naked Fanny" by the GIs stationed there. His book, "They Called It Naked Fanny," details the true, lifesaving exploits of the helicopter crews who searched the jungles of Laos and North Vietnam for downed U.S. pilots.
At age 23, Davis entered the Army's Special Services Program and served a one-year tour in South Korea followed by a tour in Vietnam in 1967-68. "So, What's a Nice Girl Like You Doing in a Place Like This? (Seoul to Saigon)" is Davis's poignant yet lighthearted memoir on those two tours. She also directed Pensacola State College's library system for many years before retiring in 2008.
For more information, call the PSC Edward M. Chadbourn Library at 850-484-2013.