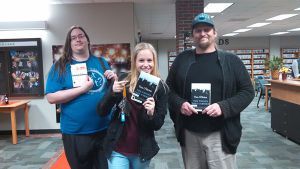 Published: 02-28-2017
By Jen Ehrhardt
Professor, English and Communications
Pensacola State's large projects offer everybody in the college family an opportunity to support student learning beyond their respective positions as students, faculty members, staff members and administrators.
Several of our large projects have involved the reading of a particular book relevant to the theme of the particular project. This book feature offers members of the PSC family and members of the community the opportunity to share perspectives grounded in a common reading experience.
One of the features of the Vietnam War Memory Project is the book drive to collect copies of "The Things They Carried" by Tim O'Brien. On Feb. 15, 58 of Sara Smith's students got their hands on free copies of the book at the Milton library. This is the from-behind-the-scenes story about how this triumph was accomplished.
Back in the fall 2016, Charlotte Sweeney, Milton campus librarian, recruited Mike Lane, coordinator of Readers Services, and Chris Levesque, Pensacola campus librarian, to help me get the book drive off the ground. Collaboration began right from the start as several members of the English and Communications Department chimed in to help select the most appropriate book for the Vietnam War Memory Project.
While Chris offered a terrific list of alternative books to choose from, O'Brien's book won the vote based on it being a great piece of literature that many people were already familiar with. In fact, the book was the Big Read in 2013. Therefore, we believed we might be able to round up copies collecting dust in the Pensacola community, copies that might earn a second life in the hands of PSC students.
On Dec. 9, really too late in the semester to hope for responses, I sent out a "WANTED: Copies of 'The Things They Carried' by Tim O'Brien" email to PSCList. Kudos go to LisaMarie Bartusik, coordinator of Readers Services and Collections Development, for troubleshooting the logistics book donation process.
At that time, I was hoping that we would be able to collect 25 books to have at least one complete set of books available for faculty members who decided to assign the book as required reading in future semesters. Responses came swiftly from all parts of the PSC community.
Within five minutes, Cassie Boatwright, director of Purchasing/Auxiliary Services, pledged the very first donation of the drive along with the encouraging words, "Love it" about the book. Within 15 minutes, Karen Kessler, director of Financial Aid/Veterans Services/Scholarships, and Jimmy Hightower, business faculty member and coordinator of the Paralegal/Legal Assisting program, had offered several excellent suggestions for collecting cheap copies of the book. Things were off to a good start.
Then we went on break.
I thought folks would probably forget the book drive, but found many a mystery book donation tucked into my faculty mail box on my first day back from break. It was like celebrating an extended Christmas! While books did trickle in during the first days back from the break, I got nervous that we would not have enough copies by the time a faculty member needed them.
So, on Jan. 6, I sent a reminder "WANTED" email. Jeanine Dickinson, Warrington campus academic advisor, responded, "It is a fantastic read!" and offered to keep an eye out for the book. The drive picked up additional momentum with donation pledges and suggestions from Rachelle Burns, director of Student Support Services/TRiO/Crisis Referrals), Paula Byrd, Century Center director, and Sandy Hartley, South Santa Rosa Center director.
By Jan. 13, I had a pile of books on the desk in my office, but nowhere near the numbers we needed. Uh, oh. What is the quickest way to get money for a student cause on a college campus? Browsing through my way-too-full Inbox, the answer became clear: we needed to hold a bake sale.
Having had ZERO experience with bake sales, I sent out a call for advice and received great insights from Jessica Johnson, financial literacy specialist AmeriCorps VISTA, and Rachelle Burns. While these responses were in the works, I scheduled a meeting with Mike and Chris about the book drive and they got so excited about contributing to the bake sale that I had flashbacks from binge watching the Great British Bake Off.
One of the great questions asked in this email thread was if this bake sale was sanctioned by Student Activities. Now, to get the bake sale sanctioned, I needed a student organization to take on the bake sale. So far, no large project has developed one of those, so I had no student club to activate. While typing an email to Samantha Hill, director of Student Engagement and Leadership, to ask her advice on how to manage this matter swiftly, it hit me to ask if we could ask Student Government Association for assistance. Here's her response: "The fastest way would be to tell me what day you want to do it. Do you have time Wednesday to come and talk to SGA? They meet at 2."
Sam got me on the agenda for the SGA meeting scheduled for the following day, Wednesday, Jan. 18. That is fast!
As a student, I had great respect for the members of the SGA. To me, these people were the superstars of the student population. While begging the PCS SGA leadership for help with the bake sale, I recognized that my feeling of respect for the SGA had not diminished in my transition from student to professor. I have no recollection of what I said to these students other than that I can buy books for $5 per copy and that getting 25 book ($125!) from the book sale would be great.
When I caught my breath, the students finished taking notes and Haley Schipper, SGA president, indicated that they would let me now their decision. The suspense was unbearable.
I waited, and waited, and waited.
Here comes the plot twist.
While waiting, the first email I opened on Thursday, Jan. 19, came from Melissa Davis, Warrington campus librarian. Melissa was involved with the Big Read and was the person who helped Tim O'Brien get around town for his speaking engagements a few years back. Mike, Chris and I thought she belonged on our Book Drive Team. Boy, was that the right call! In her email to me, Melissa included the photo below with the text, "Look what I have! I didn't count them, but I'm told that there are 40 books." This cache of books was left over from the Big Read. With this sudden influx of books, Melissa became a large projects legend and the savior of the book drive.
Early the following week, Sam relayed a message from the SGA that indicated that the students had agreed to take on the bake sale. Woops, time to figure out what the students would be selling! On Monday, Jan. 23, I sent out a "Calling all Bakers and Snack Makers!" email hoping that Mike, Chris, and I could get some help in baking for the sale.
The first offer came from Kathy Wellborn, coordinator of Financial Aid/Veteran's Services/Scholarships, within three minutes. The offers kept coming in, including Debbie Douma, dean of Institutional Effectiveness and Grants, with Granola bars; Julie Ruengert, professor, English and Communications, with cookies, Robin Mertins, graphic artist in College Marketing and Information, with a chocolate cake; Lauren Baugus, lecturer, English and Communications, with Cupcakes; Mary Ann Petruska, associate professor, Mathematics, with Amish bread; Mike with magic cookie bars and chocolate Andes cookies; and Chris with mini Key Lime Pies!
Even I baked. During this time, Jill McCourt, lecturer, Physical Sciences, South Santa Rosa Center, sent me an email expressing her regret for being too far away to bake for the sale. Her alternative for supporting the cause was terrific: she donated not just a paperback copy of the book but also an audiobook version. Brilliant! So, now we are able to give students who are unable to read the book the opportunity to listen to it instead.
During this time period, additional donations came in from Tracy Peyton, department head, English/Communications, Elaine Miller, professor, English/Communications, Paula Ingram, professor, English/Communications, Lauren Baugus, and Julie Ruengert (seven copies! Who-ho!).
During the planning stage of the bake sale, I had the pleasure of observing the leadership of Haley Schipper. I was very impressed with her way of thinking through the logistics and her effective way of communicating via email. SGA is in good hands, folks.
In total, five members of the SGA gave their time, energy, and talent to our cause on Monday, Jan. 30, and Wednesday, Feb. 1. These students were Haley Schipper, Hayden Milstead, Angel Doyle, Kaila May, and Samara Potter. In addition to acting as sales staff, Kaila donated brownies and Angel donated the cupcakes in the picture below for our cause.
Working side-by-side with these students was refreshing. I got a chance to take off the teacher's cloak for a while and just be a fellow human being admiring the spirits of some of the great students we are educating here at PSC. One of my favorite moments was when Hayden, SGA secretary and office-to-office sales rep extraordinaire, and I walked across campus after having sold everything from her basket for the third time. Hayden turned to me with a glint in her eyes and said, "I think I can do sales!" And, yes, she can certainly do sales. In fact, when she was all sold out, there were still people in Building 7 hunting her down to buy more to satisfy chocolate cravings and enjoy sugar highs.
In only three hours, these ladies raised $182.61, breaking SGA's goal of purchasing 25 copies of the book by a lot. After the event, Haley shared, "Since being on SGA at Pensacola State I have never seen such a successful bake sale. I'd like to personally thank all the students and teachers that helped put this bake sale on and the ones that donated the delicious baked goods." Hayden added, "It's amazing what we can do when we all come together."
TRUTH!